In the Philippines, Mt. Apo is the highest point with an elevation of 3144 Meters above sea level, making it the Grand Father of all Philippine Mountains and the dream mountain of every Filipino mountaineer.
Mount Apo is one of the must see and experience for every adventure tourist or backpacker who visits the country specially in the Davao Province where it lies.
There are four (4) well established trail in making a journey to the summit. These are:
*SIBULAN -MT. APO PEAK TRAIL…… Sta. Cruz, Davao del Sur , Philippines
Considered as the most technical and interesting trail because of its narrow and different type of trail with very lush vegetation and pristine jungle which you can see the canopy ecosystem and different species of Flora & Fauna.
Its trail starts at a small village call Baruring, Sibulan, Sta. Cruz, Davao del Sur which a back packer would pass a farm trail, jungle trail and boulders trail before reaching the summit covering a distance of 13.7 Km with elevation gain of approximately 2,000 meters from the trail head and recently the shortest distance from trail head to summit compared to the rest .
* KO-ONG KIDAPAWAN TRAIL…….Kidapawan , North Cotabato, Phils.
Mostly used trail that is why it has the widest trail of them all which starts in then Kidapawan, North Cotabato. This trail offers a river trail , jungle trail and grassland assault upon reaching the summit. Although a little bit far the covers approximately 19 Km ,the experience in trekking this trail is also challenging.
* KAPATAGAN TRAIL…………………..Digos, Davao del Sur, Philippines
This trail is an adjacent trail of Sibulan trail but a little longer in distance by est. 2 Km with wider trail together with some obstacle along the way.
Magpet Trail, NorthCotabato
This trail is adjacent to Kidapawan trail and approximately 15.3 Km from starting point in Tausuvan Campsite in Magpet. The trail features Bongolanon waterflls in the the starting point then brings you to the trail's rain forest with some mossy areas specially if you reach the 2,000 meter elevation. This trail will also lead you to Lake Venado as a good spot for camping if you are on the West side of the mountain.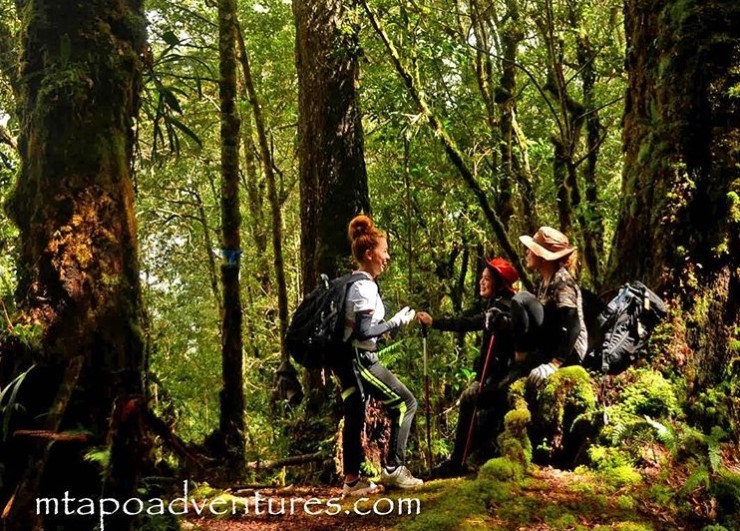 * TAMAYONG TRAIL………Davao City, Philippines
Unofficially open trail to Mt. Apo which is considered as the toughest and longest way to the peak which makes climbers pass the Mt. Talomo Peak making it a double Major climb.
The Boulders of Mt. Apo is one of the famous feature which would led to a breath taking experience by ascending the crater of sulfur deposits and vents. Along the boulders, picture taking and nibbling of sweet wild berries can be tried before arriving at the 87-degree cliff before leading the way to the country's highest peak.
Seven(7) different peaks can be seen at the summit of Mt. Apo and peak hopping is the best thing to do. In one of those peaks , you can feel being in an enchanted world by experiencing its epic sunset and in the morning , you can experience the mystic sunrise which gives unimaginable pleasure and under very good weather , you will observe the following : Davao side, South Cotabato's Mt. Matutum, Lake Venado an other surrounding provinces.
Philippine Eagle can also be seen if you are lucky enough on your way back.
In the foot hills of Mt. Apo, there are hot springs which would sooth relax your tired body minimize muscle aches like the Mundo Apo hot spring, Agco Hot springs in Kidapawan, Bongolanon Falls in Magpet and Mainit hot spring in Kapatagan which is a very ideal thing to do.
So, try conqueringthe Philippines Highest peak , dare to climb Mt. Apo for an adventure of a lifetime.
Kindly contact us via  mail, call, WhatsApp or SMS through :
Engr. ALBERT C. GABRIEL
mtapoadventures.com@gmail.com
Smart……+63 998 9502558
Globe……+63 917  5560499