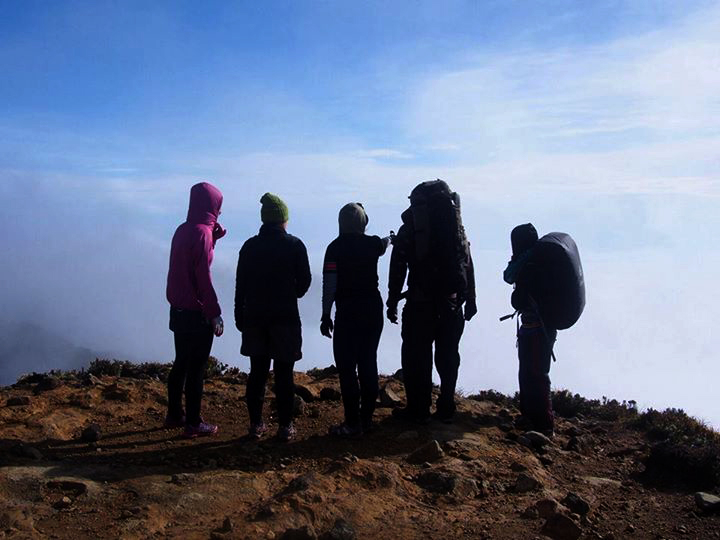 I've been blessed to be a part of a friendship that values the beauty and wonders of our motherland; to have the audacity to experience that thrills she can offer. Team masaya as we call ourselves have already visited most parts of the Philippines.
One experience we will never forget is embarking to a journey to meet the grandfather of all mountains and volcanoes, Mt. Apo
Situated in Davao del Sur, Mt. Apo, stands on his grandeur with an elevation of 10,311 feet above sea level. Being a dormant volcano, it gave birth to enchanting jungles, majestic boulders, serene lakes and springs thus becoming a dream destination for mountainers and adventurous individuals.
We were fetched by Sir Albert in our hotel to meet our lead guide Roy. We took an fx and then transferred to a habal habal – a local term for motorcycles for rent, were it will take us to Kapatagan and jump-off area
Our sojourn began at sitio baruring. Accompanied by Roy, our lead, guide, Jimboy, Jerry and Arnie our porters we headed to the foot of the moutain, passing thru a village wherein we are welcomed by the warm smiles of the villagers, and lush grassland and vegetation.
As we went deep into the forest, we began to unravel the beauty of its flora. There are a lot of wild berries, ferns and trees growing freely at the area. We didn't get the chance to see much of its fauna, (no sighting of wild monkey) but this doesn't reduce the excitement that we feel as we trek. We get to hop on large tree trunks, rappel on small branches and gnarled roots and parkour.
It was a long walk, making us famished and tired. We took our lunch at Tumpis and made several stops to rest while enjoying the cool weather and scenery.
We reached camp 1 an hour earlier. Exhausted, but happy, we started to imagine what would it be like the next day. We were told that tomorrow's trek will be a lot difficult. It feels like opening a pandora's box, elevating the risk and difficulty of the climb, but knowing that there's hope of a safer journey with the help of our trusted guides. Hope to reach the peak and blow a good night kiss and greet a warm hello to the sun.
Dinner was served early; it's was a long slumber for us.
We woke up around five in the morning. After breakfast, we sauntered, exciting through the woods. As the trees and plants go fewer, we knew that we are nearing the boulders.
The boulder area is like a man's heartbeat. You won't hear it if you don't go near to a man's chest and listen. As we touched the sulphuric ground, climbed enormous rocks and felt the heat gushing out from within, we knew how alive Mt. Apo is.
We passed thru Gabroq E- Camp and took few take 5 at Botoy's ridge. We got a glimpse of what the crater, where a small lake formed after its second eruption. As we rambled thru the summit, the surrounding gets colder and foggier.
We settled at the second camp around 2:00pm. Again we arrived early at the site. Rejoicing that we get to experienced sunset, somthing expected happened.
It rained! It became a storm-like weather and the wind almost blew the cover of our tent. Water is seeping inside the tent. It was still a fun experience for us though. We've been laughing and giggling as we figure out how to keep the water out and make the tent withstand the weather.
Our guides became our parents that night. Aside from cooking our food, they took turns in checking our tent during times that wind is blowing very hard.
It was a colder and longer night for us. We slept with high hopes to see the sunrise
Luck didnt pave its way the following day. Perhaps due to the rain yesterday, the summit was enveloped with fog. What we witnessed is only a silhoutte of sunrise.
We ate our breakfast feeling disappointed. Afterwards we started packing. We will be doing a two-days worth of trekking in just a day going down the mountain.
Our lead guide took another chance on ascending to another peak. We didn't know that this was an early Christmas present for us: A 360 degree view at Mt. Apo's peak.
Very much elated, we spent few minutes taking pictures (with jump shots of course)
"The cosmos is within us. We are made of star-stuff. We are a way for the universe to know itself." – we are in cloud 9.
We then started trekking our way home. The pace became slower, yet the spirit is still high. We been throwing jokes, chatting and singing songs to forget how tiring it is.
It was already dusk when we reached the village. We rested for a while, then started walking again to the jump-off area. We rode our way to kapatagn via habal-habal where a van that would take us to the city is waiting.
As we tucked ourselves in our cozy beds inside the hotel, we knew that this one of the many experiences that we will never forget.
Photo By : Jeremy Leung
Article by: Maricris Lim (Macre)
Compliment to Team Masaya: Jeremy Leung, Joy Anne Leung, Ma. Cristina Dacillo and Maricris Lim 
Adventure Date: November 18-20, 2013