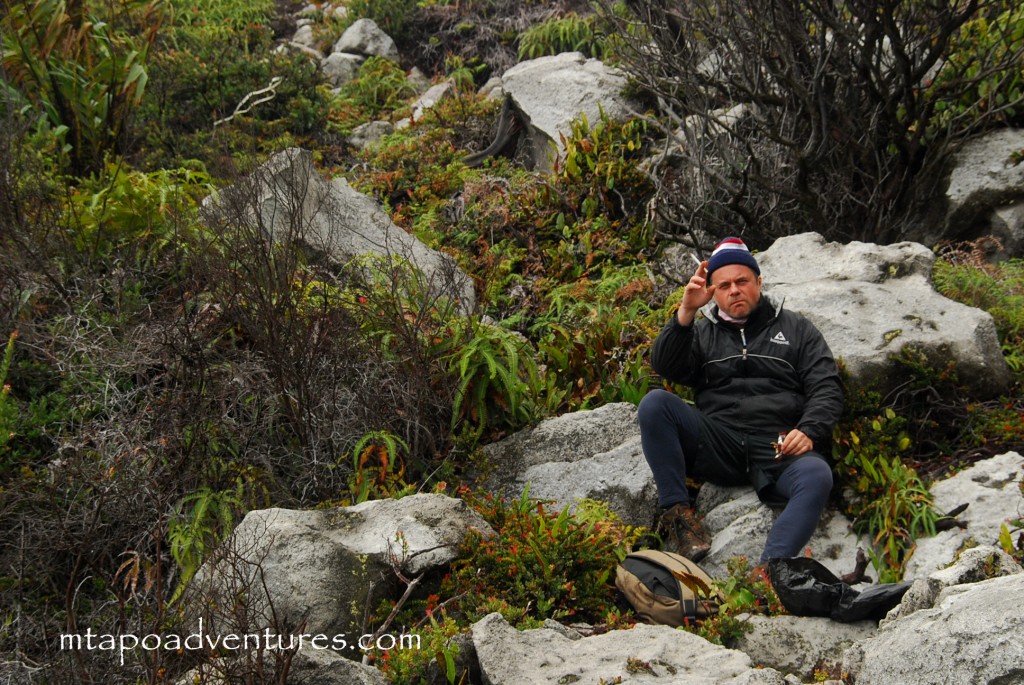 "In the middle of the journey of my life
I found myself lost in a dark forest
And I had lost the right path…
Oooooh, how could I describe this wild, thick and bitter place?
…but, in fact there, after many ordeals, I found  Goodness, Beauty and the love of my life… "
Dante Alighieri, The divine comedy, beginning of the 14th century
My dear Albert, as we where shivering with cold on the slopes of mount Apo, I made you the promise to write a few words about our fabulous expedition in august 2013, trying to reach the top of the skull of grandfather Apo. Skull which is watching the Filipino people with a lot of love, and also full of compassion for them when terrible events happen as the recent typhoon.
Now, in the Parisian winter, I remember these sacred days with you, my son and the other brave men of our trek, including our powerful porters.
As you may know, in his famous poem, "the Divine Comedy",  Dante, completely lost in the forest of life, found a guide and a friend in the person of Virgil, an other poet, devoted and careful.
Needless to say, my dear Albert, that there on the Mt.Apo, for all the lost souls we were, you were our Virgil. You always did the best for everyone, giving us confidence and force, including the preparation of the best pork adobo I ever tasted, non mentioning your delicious hot choco.
I invite all the readers of these few lines the adventure of climbing Mount Apo. It's an unique experience, and whatever is the weather.At the end of August, we were not very lucky with it, some rain, some cold,and quite cloudy…but what we lost in the celebration of the sun, we won it in engaging ourselves in a strange world made out of subtle variations of white and gray clouds, dark blue,   and yellow (the sulfur). And not an easy world.Climbing up and down the boulders is a good challenge for who wants to test the agility and reactivity of his legs in a beautiful desolated landscape.
As far as I am concerned, I had drunk a good quantity of Korean sake the days before and a few shots of  Tanduay and I can assure you that climbing the boulders are the best medicine ever made against hangover. It's always a joy to realize that the human being has a lot of capacity to react against adversity.
What a strong feeling we had when arrived on the top! It was another world,  , we were not happy with the weather but   we could feel the mystery and the wildness of the creation. And the spirit of grandfather Apo was there encouraging us to cope with reality and vivifying our minds and souls, 3000 meters above the level of the sea. God has spoken to Moses at the top of Mount Sinaï, and here, surrounded by mystical clouds, we could almost hear  old Apo whispering to our ears words of wisdom : enjoy life, little human being! And be brave and good with other people,  don't forget that  your existence on this earth will end like the flight of the seagull! So do not deny the mystery of Grandfather Apo and all the transcendental forces!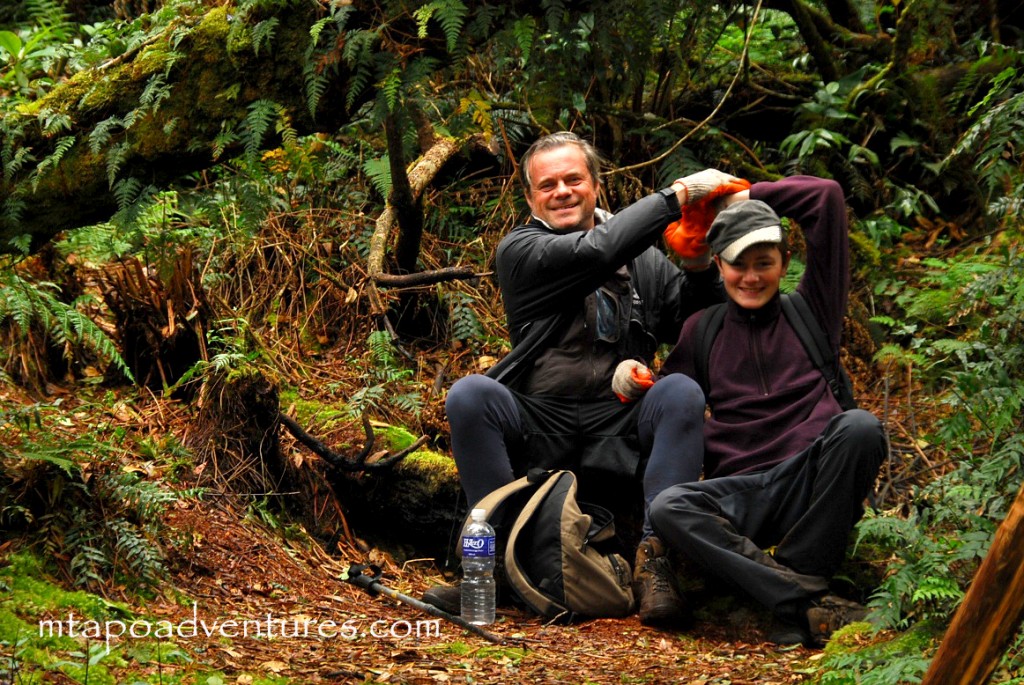 A great adventure also was the climb down during the night time. two hours of fun with flashlight with some surprise at each step :bats, roots, holes, mud, fallen rotten jungle trees to climb up…Disneyland would never propose that!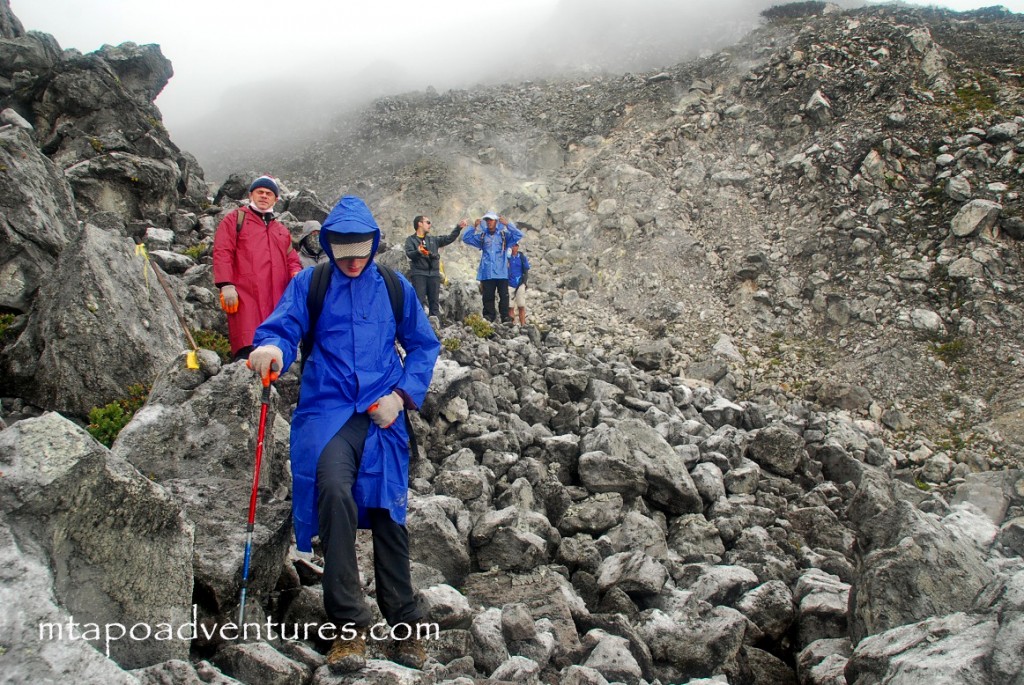 Eventually, the great joy for me in this amazing trek was to see how my son "Jules" lived all that. In the urban life, he is a discreet, shy, nice and, I may say, quite reserved chap. Grandfather Apo gave him wings, he didn't climb up or down, he just flied in his blue raincoat and his face turned into a angel face. How amazed I was! Me, an old man full of sins had created such a wonderful bluebird? But what is from flesh is from flesh, and what is from spirit is spirit!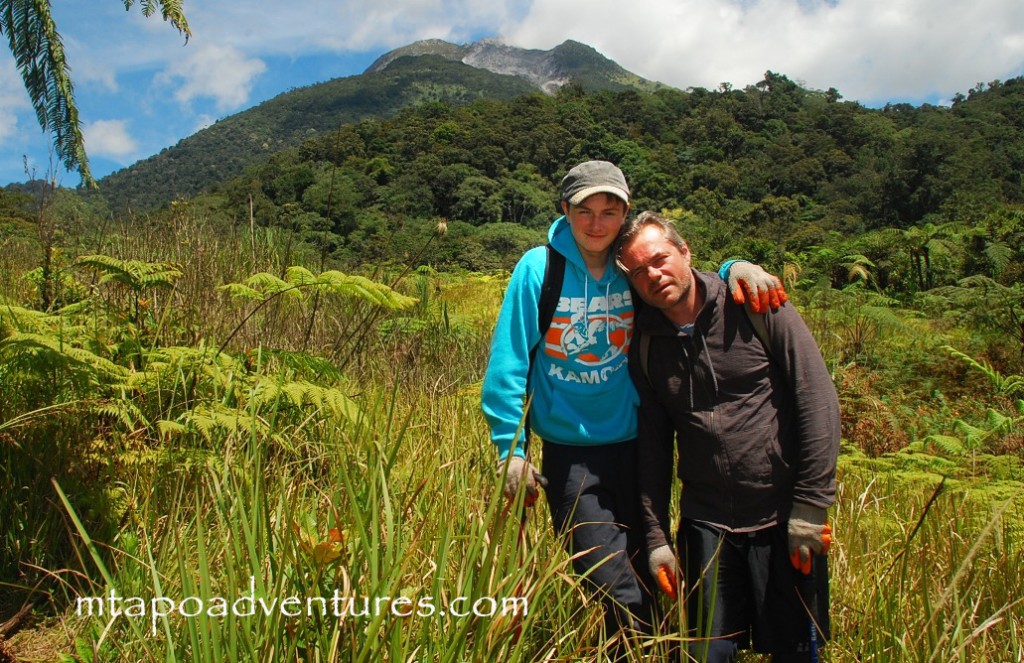 At the end of this letter, my dear Alb, I would like to thank all my Filipino friends who have supported my bad temper during this initiatic travel and also the sun which has welcomed us at the end of the trek. Excuse me also, dear reader, for my poor parisian English. I can only recommend you to experience the climb of Grandfather Apo, He will give you what you ask…
Article written by:     Michel Sigalla…..French, Actor
Adventure Date: August 24-26, 2013
Compliments to my Climb Buddies:  Jules Sigalla, Michael & Jonathan Joson