One of the highest mountain in South East Asia is Mt. Rinjani towering 3702 MASL which is ranked next to Mt. Kinabalo (4,095MASL) of Malaysia. Climbing this mountain is also in the bucket list of trekkers that visit Indonesia same as Mt.Apo in the Philippines.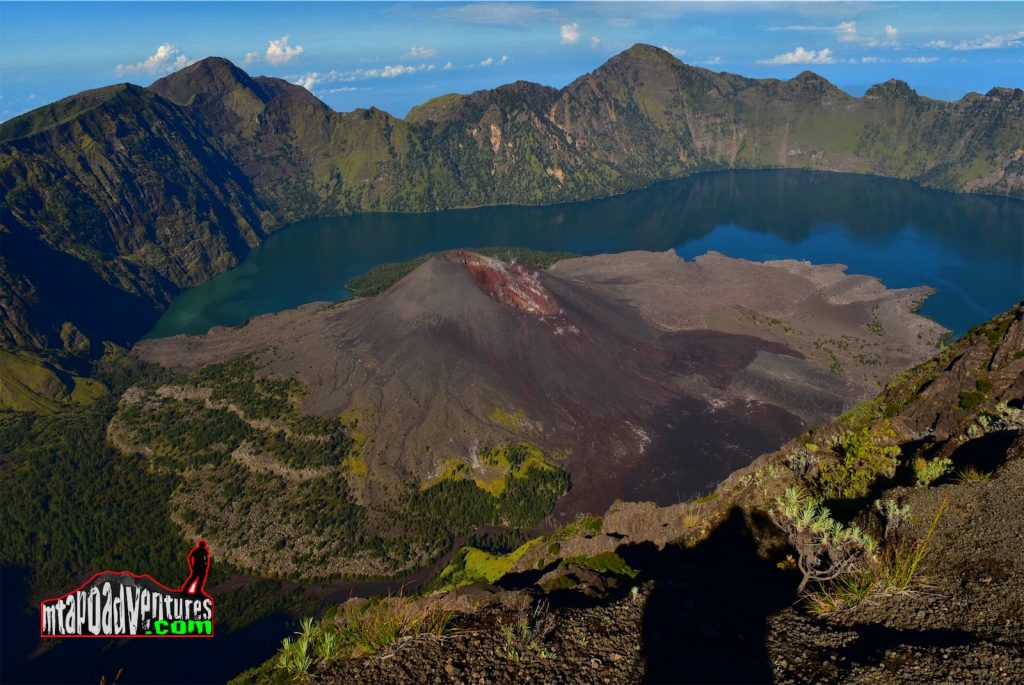 Last April 2018, mtapoadventures.com organized a climb to this mountain scheduled for 3 days traversing from Simbalon and exit to Senaru Trail.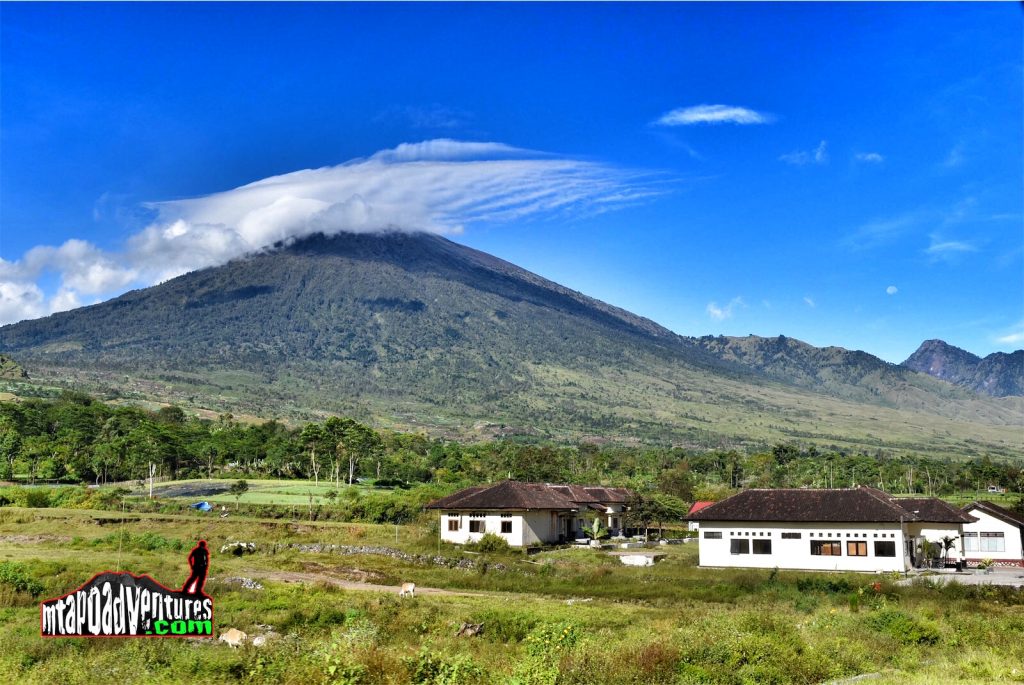 The group was composed of a British Lady , Italian Guy and myself together with two locals which serve as our guide and porter.
On the fist day , we were picked up by the van in our Hotel in Kota Mataram and brought us to Senaru base for a breakfast an briefing. After we were transported to Simbalun to get our permit then start the trek afterwards.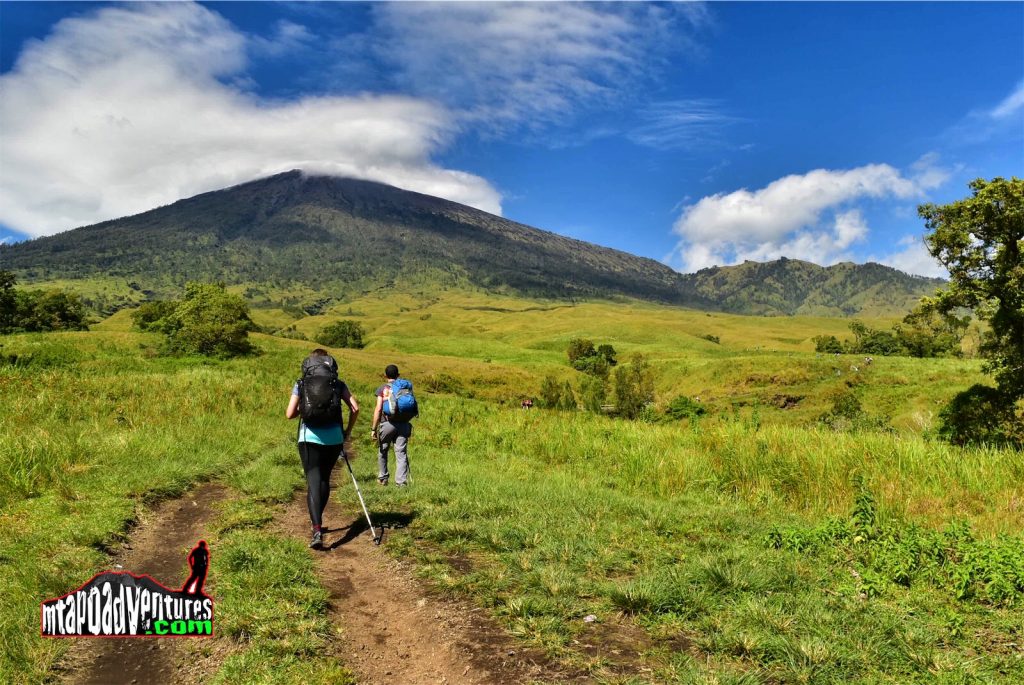 As per our briefing , we will trek from 7-9 hours on that day and camp at the saddle of the mountain t an elevation of 3000MASL (almost as high as MT. Apo summit). The trail at this time is an open one where you can see the whole mountain from its foot up to the peak and a very wide grassland (weather is very good at this time). It was very surprising that there were no existing farm after the trailhead which is usually common in the Philippines.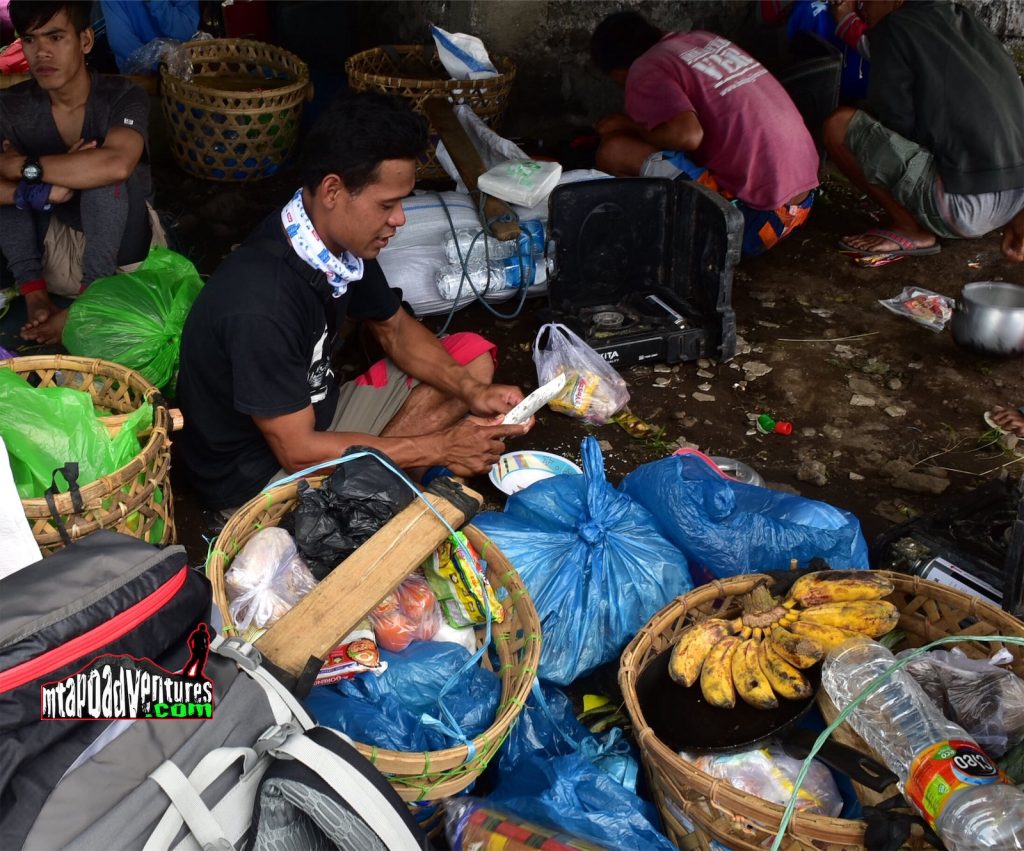 Our group had lunch at the 2nd stop at Tengengean 1,500 MASL where we were served with vegetables , chicken, rice and fruits an at this point I have realized that this mountain has so much traffic during its climbing season because I estimated that there are more than a hundred of us that were on that area for lunch and was almost 1 PM when we continue trekking leaving some of the trekkers behind who are taking a nap.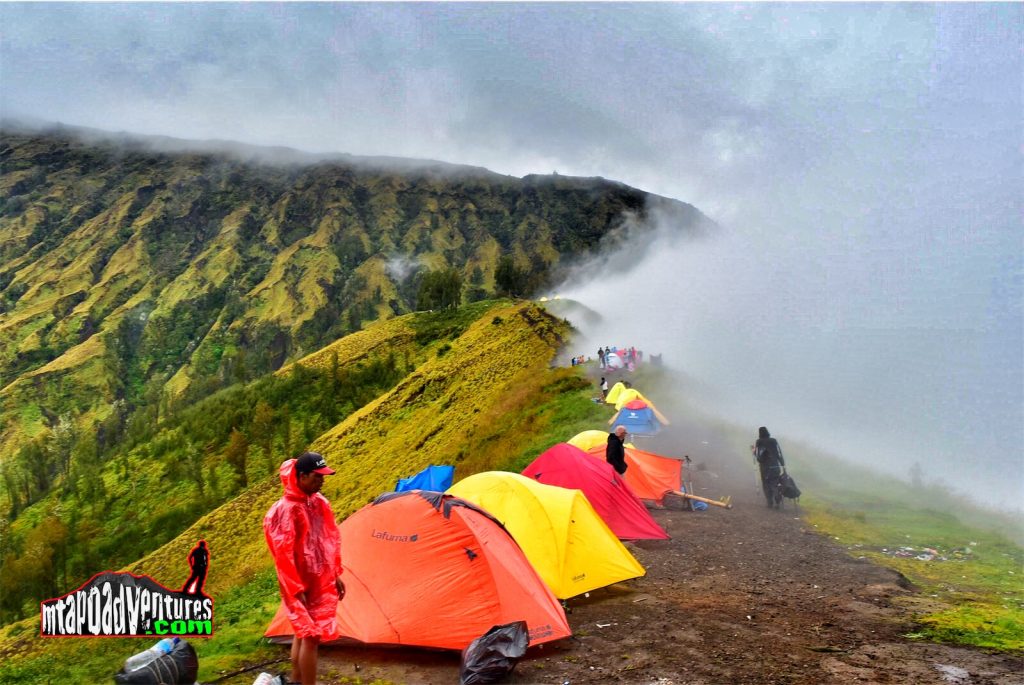 Around 4PM just few hundred meters below the saddle, suddenly the rain started pouring and we have to stop for a while to put on our rain gears. The rain continued until we arrive at Plawangan II Sembalun crater rim (2,700m) campsite and we have to wait for our porter to arrive which is around thirty minutes behind an then to set-up the tents. We were so happy when the rain stopped afterwards but still the temperature is around 5 degrees celcius so its really a must to bring appropriate layers with you climb this mountain. In the camp site the amazing view was bestowed upon us , you can see Simbalun on our left side, the peak of Mt. Rinjani in front then Lake Senaru on the right side with the setting sun while we are enjoying a cup of tea and fried banana served by our guide. That was the best time of the day that after a long trek up, beaten by the rain and cold we were rewarded with a very nice scenery that's priceless plus the company we had.
Proper gears is very important in trekking this mountain because even its in a tropical island temperature above 2000MASL could reach up to 2-3 degrees Celsius. In the campsite we observed other trekkers using their sleeping bag as a jacket to keep them warm.
That night we enjoyed hot noodles for dinner then went to sleep and be ready for the summit assault the following day.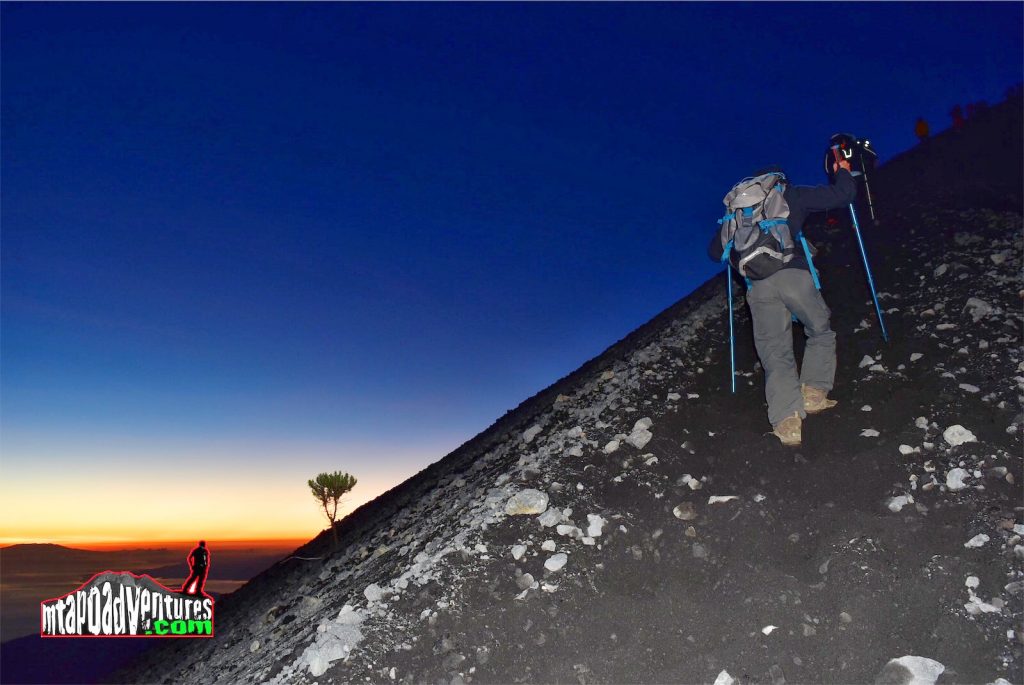 Around 2:15AM on the next day our guide woke us up and served hot coffee and pancake then hit th summit few minutes later.
The trail going to the summit is approximately 4 hours from the campsite with an elevation gain of almost a thousand meter of scree trail combined with some sand and pebbles. We have an advantage during our climb since it was the first week since it opened from rainy season for the trail is a little bit harder and lesser people already used the trail otherwise you will 3 steps up and 2 steps back due to its soft characteristic like walking in actual sand in an inclined manner.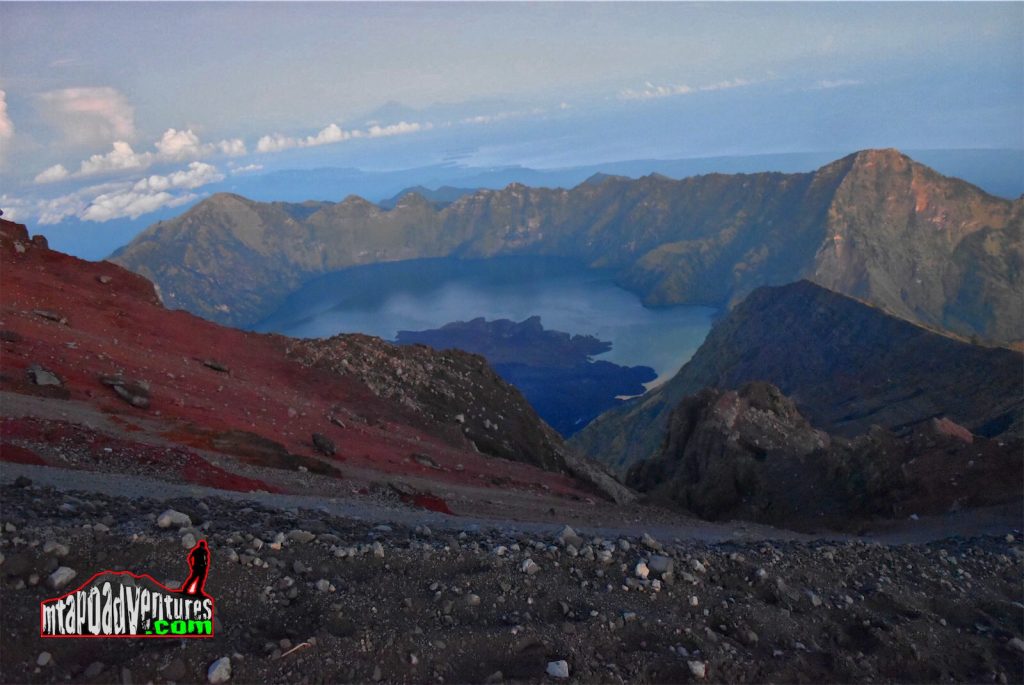 One of the challenge in reaching the summit is when you arrive above 3200MASL elevation because I already saw some trekkers felt sick while trekking up and it goes worse as you go up , some of them are already crying and having a head ache. When I arrive at around 3400MASL I felt sleepy ,same feeling that I experienced when I did Mt. Kinabalu. Good thing I brought power gel with Double Shot Coffee flavor and take it with some water and wakes me up all throughout up to the summit.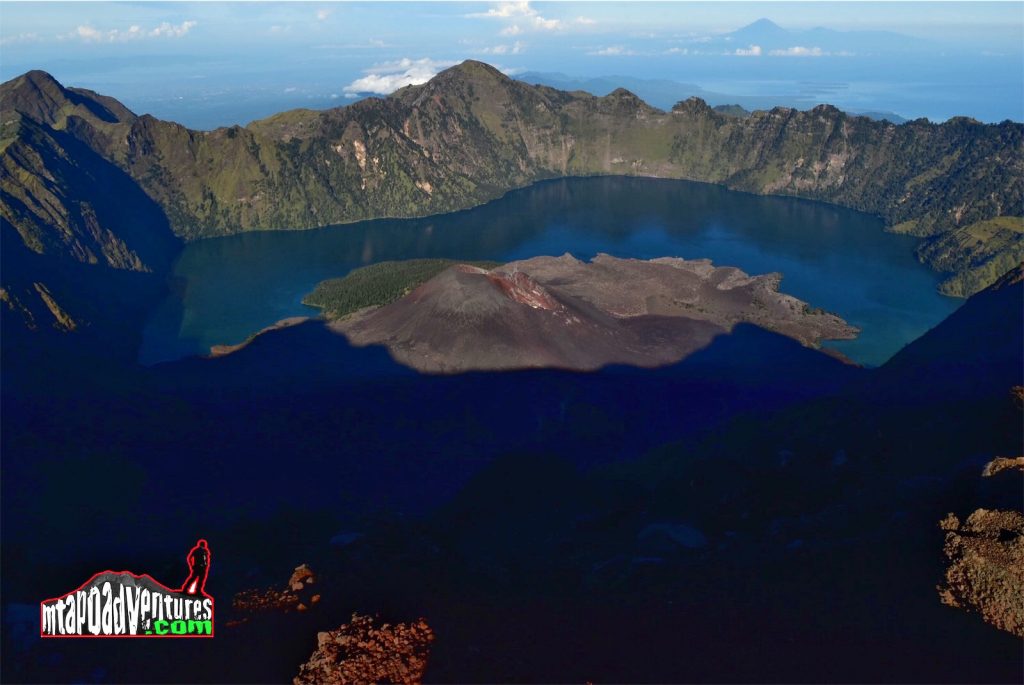 We arrive at the summit around 6:03 just in time for the sunrise and watch it as it illuminates the mountain and its surroundings giving a magical view that this mountain can offer. Around 6:30AM when the sun is already up we took some photos around like its crater, Mt. Agung in Bali and the Gili Islands then went back down to the campsite.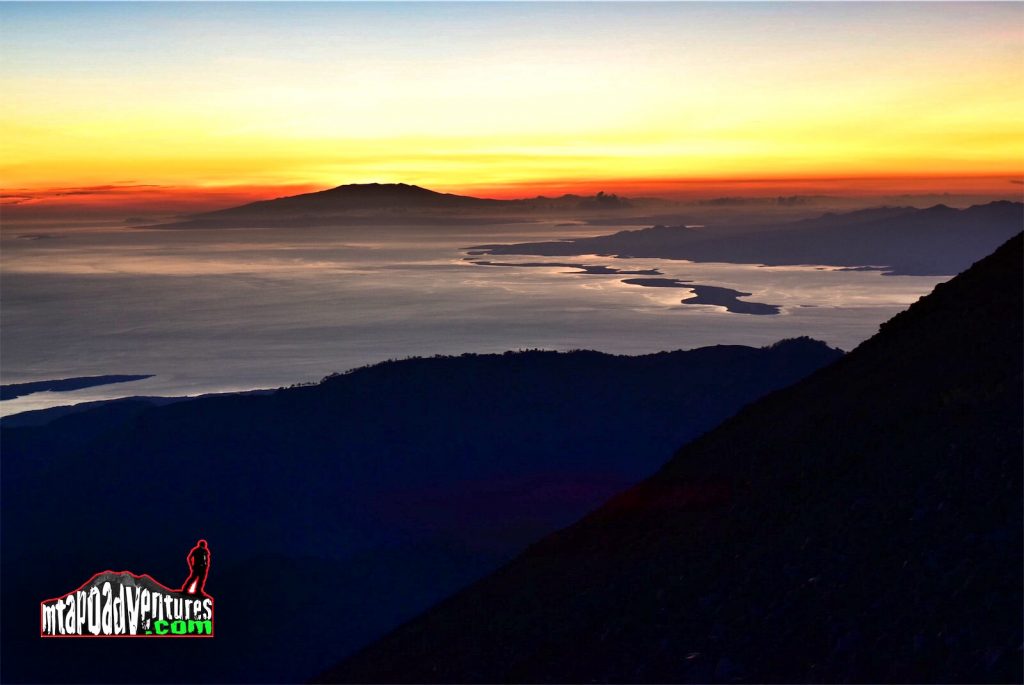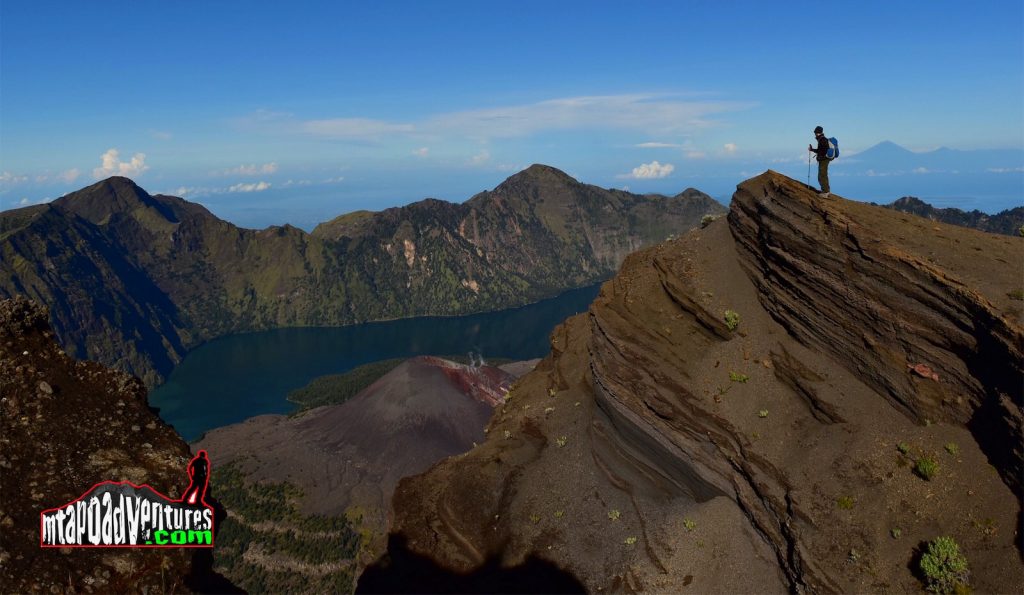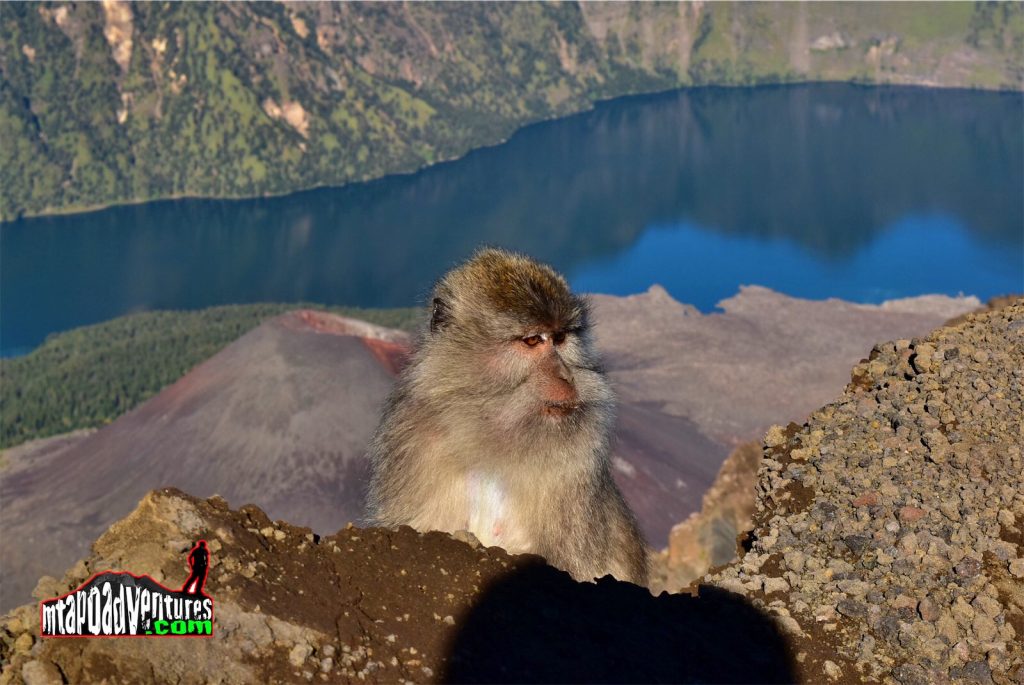 When we arrive the campsite we were served with a nice breakfast served with coffee, then did the break camp and started the descend going to the crater rim following an established trail that was formed like a stairs made of rocks on some parts of it.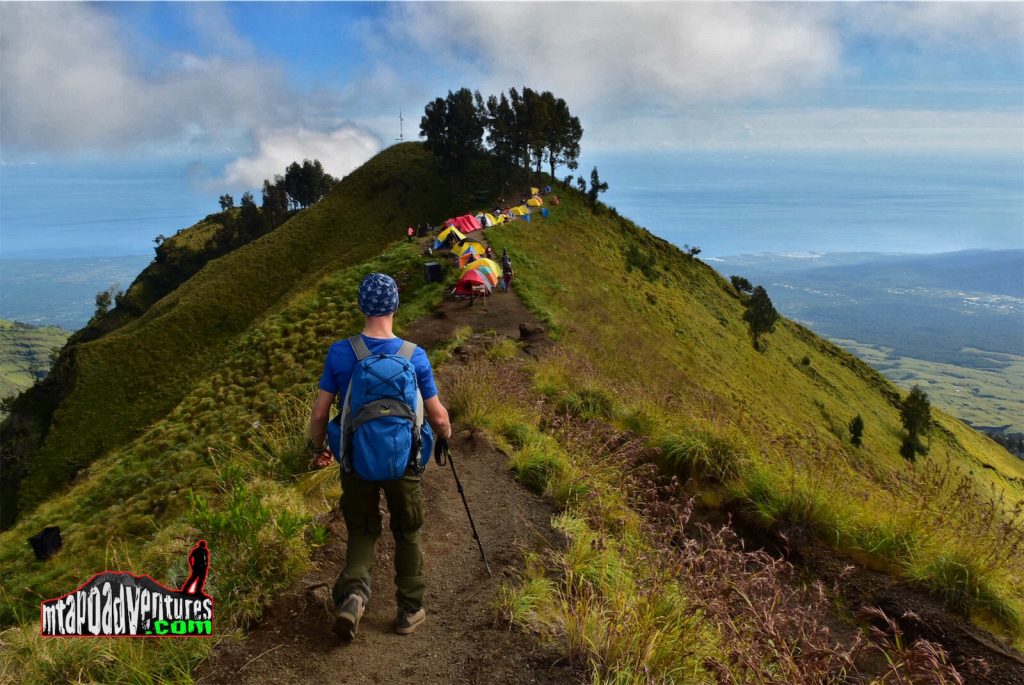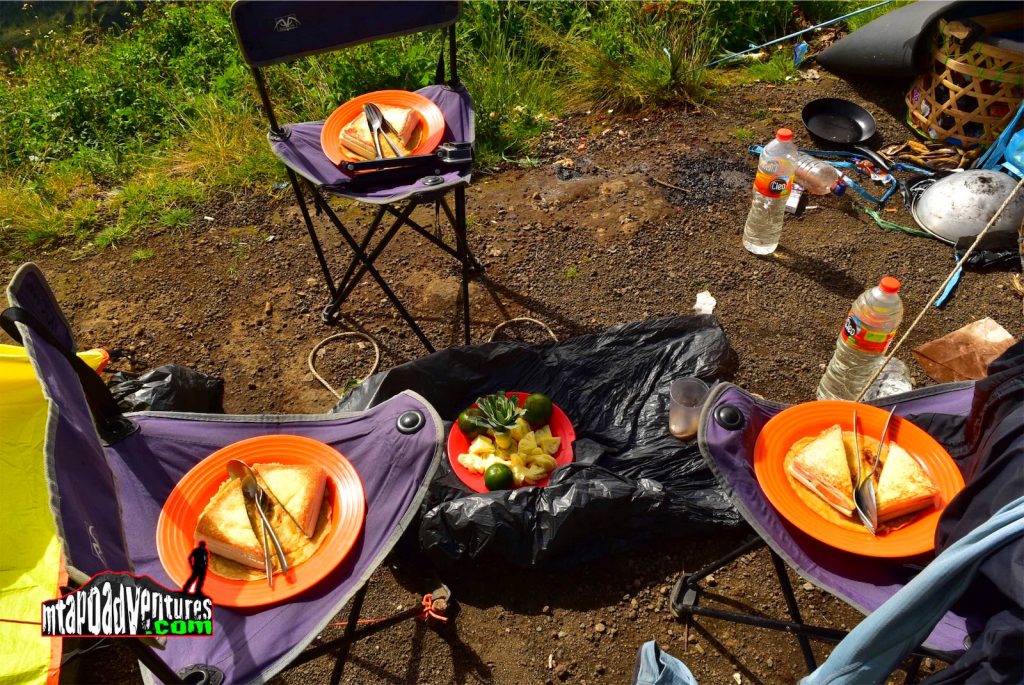 It took us a round 2hours and a half until we reach the crater lake and visited the nearby waterfalls and the hot spring to relax then proceed to our lunch break area near the lake.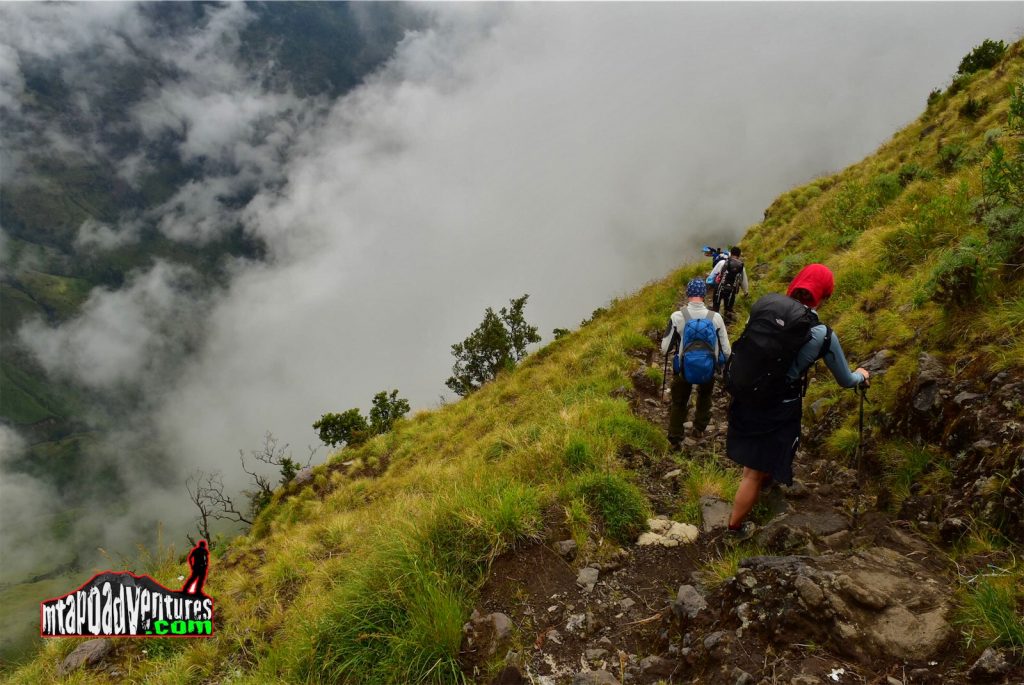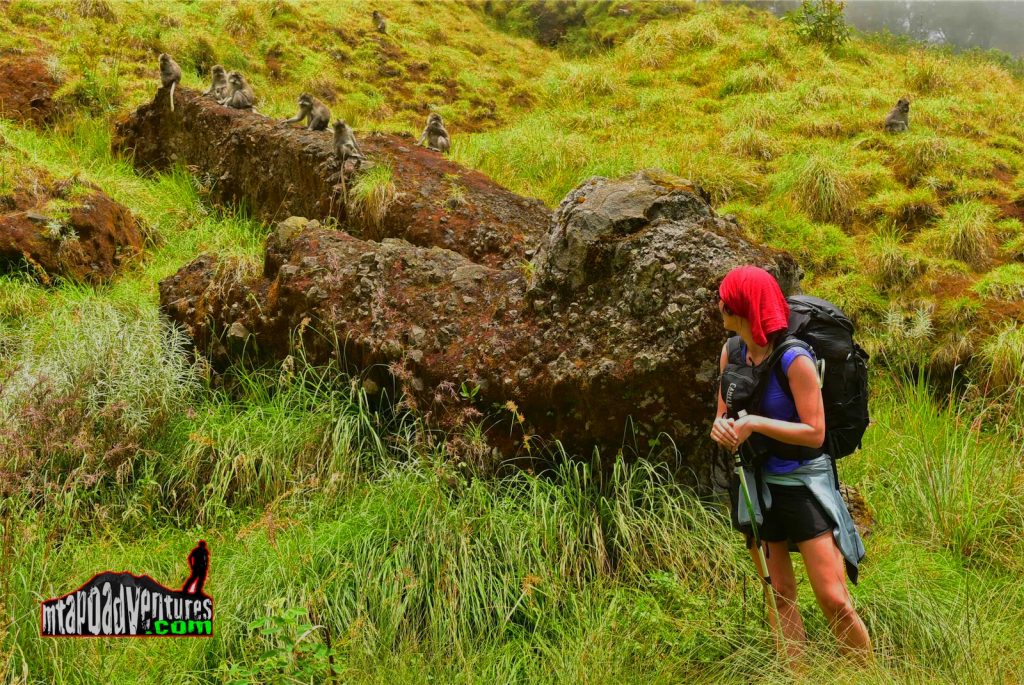 While we are waiting for our crew prepare our meal, we had the chance to take a dip and swim in the lake and refresh ourselves and explore the lake . Just be careful in exploring the surroundings for there's a lot of nettle leaf around and its very stingy once it touches your skin.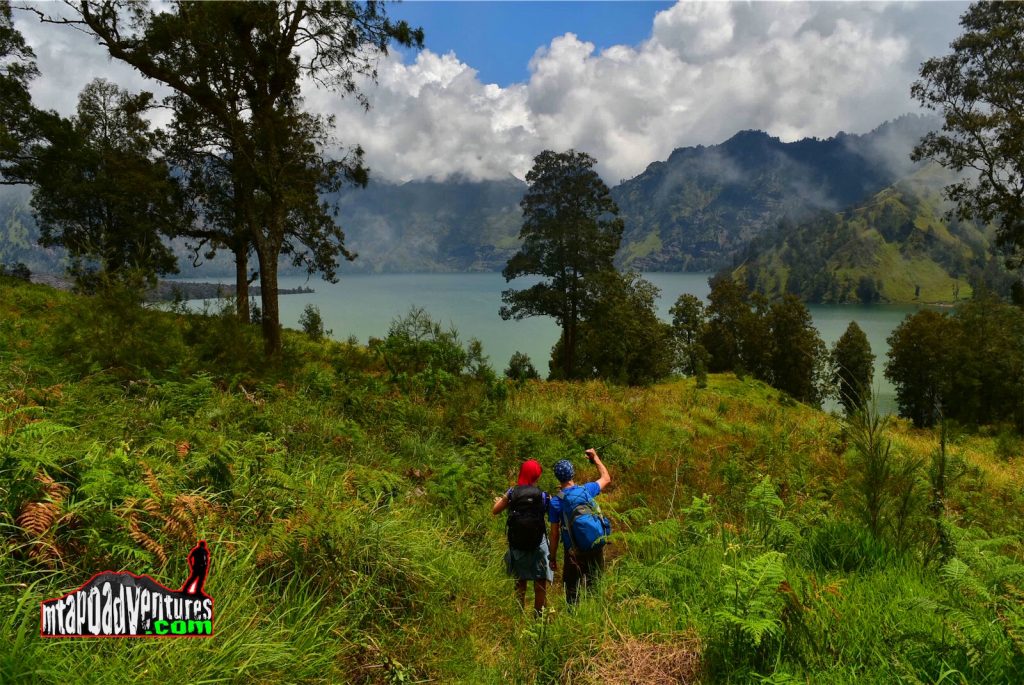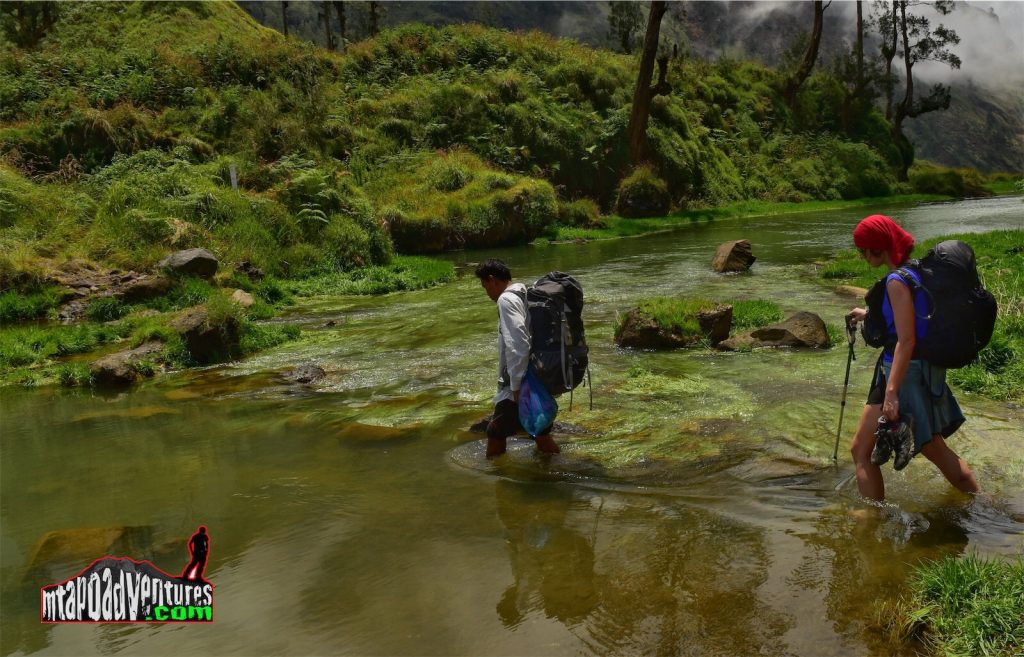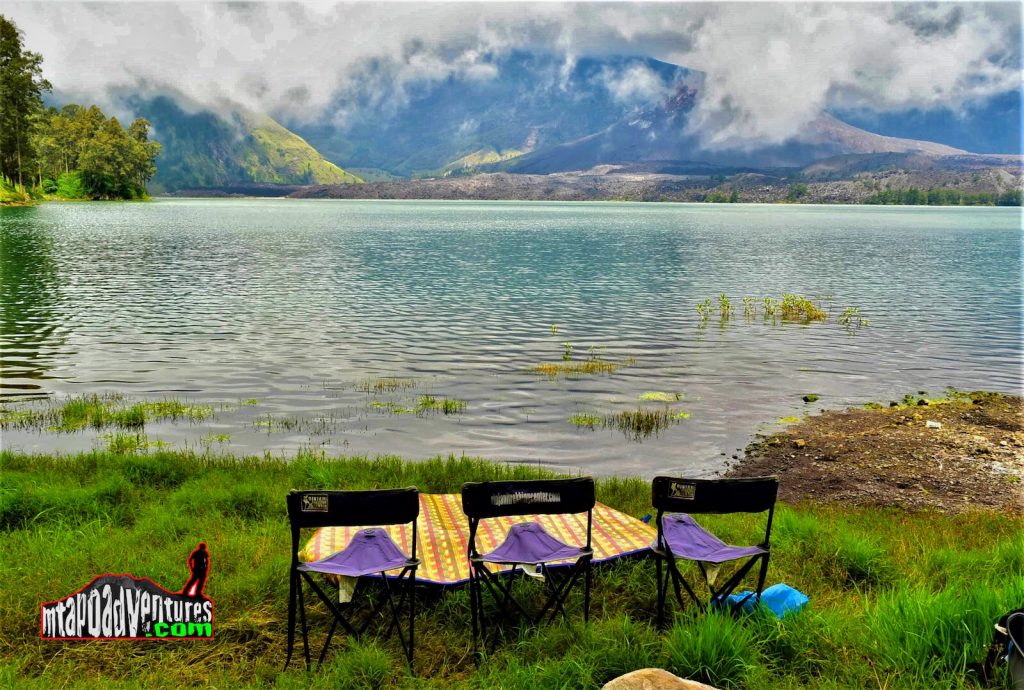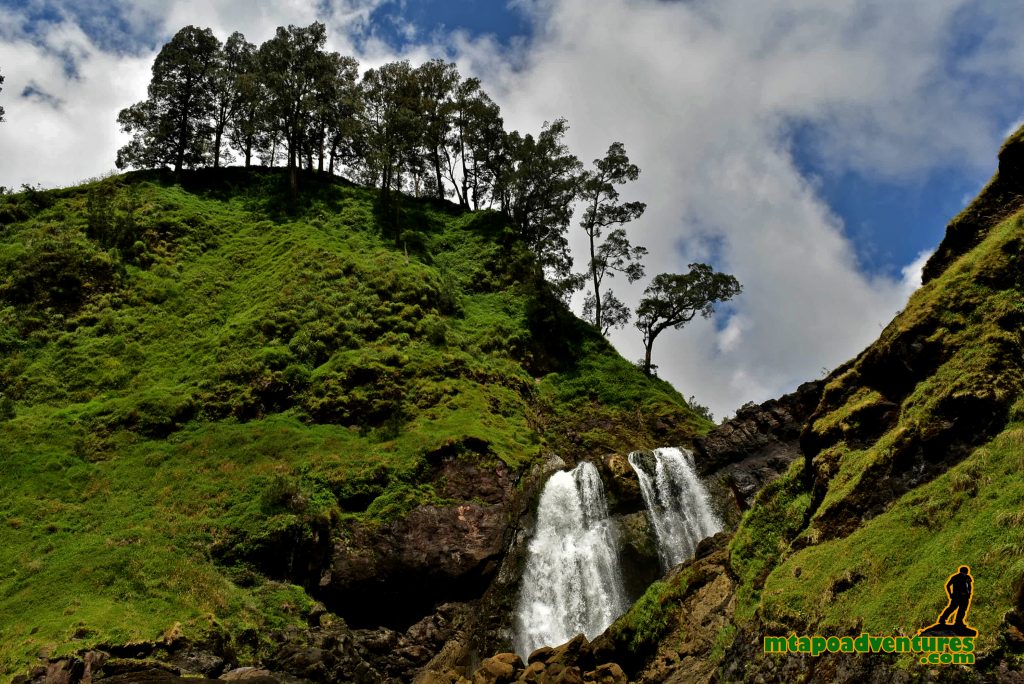 It was around 1PM when we finished lunch and took some few minutes nap before we head our 2nd day campsite at the Senaru Crater Rim campsite 2,461 MASL.The trail is an ascend with the same type of trail when we go down from the other side except to some steep parts when you need to hold to some railings for support . The view on this side also is nice for you will see the summit and the totality of the new crater for Rinjani formed during its latest eruption.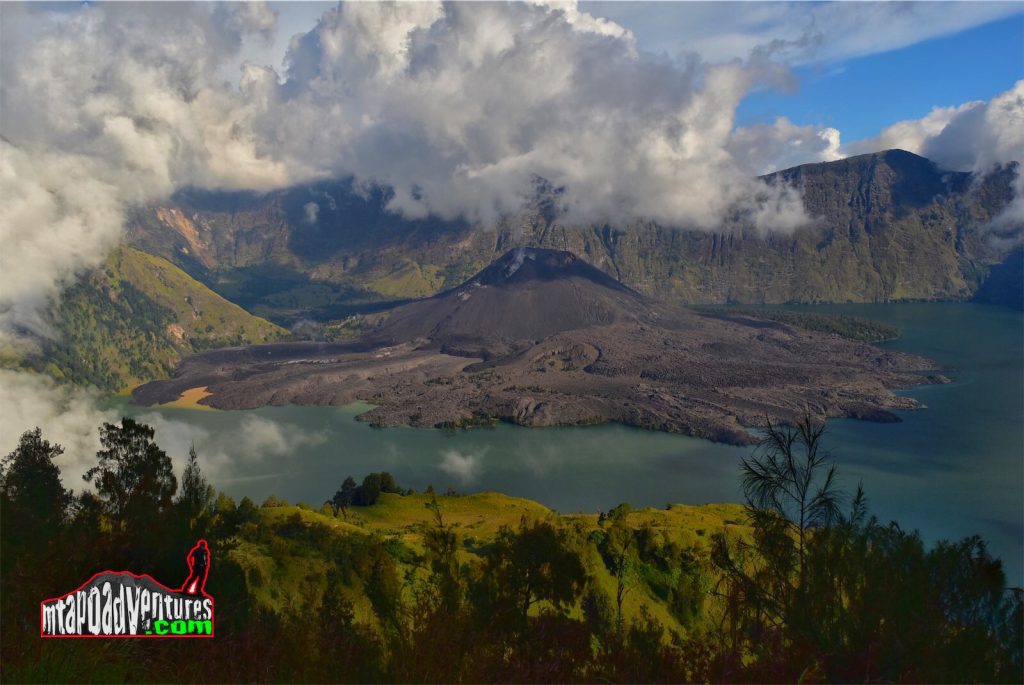 We arrive at the campsite around 5PM just right before sundown and enjoyed some coffee before we had our dinner. In this campsite we had the meet some people and shared our experiences while enjoying hot drinks and snacks. One of the good experience we had that night is watching the stars over the night sky which are extraordinarily bright while watching the night silhouette of the summit.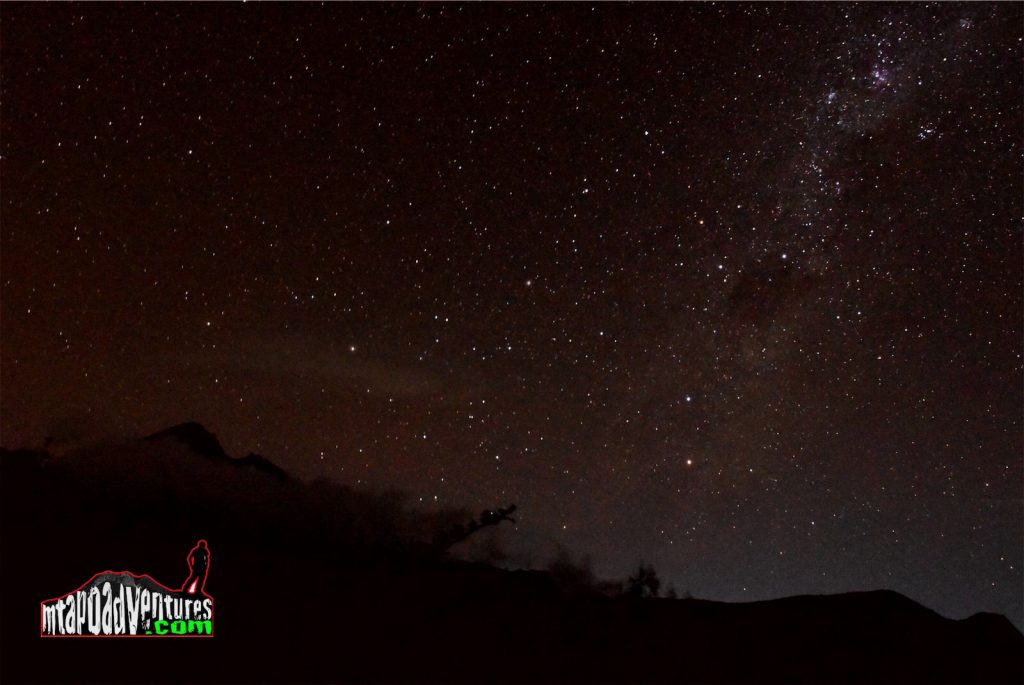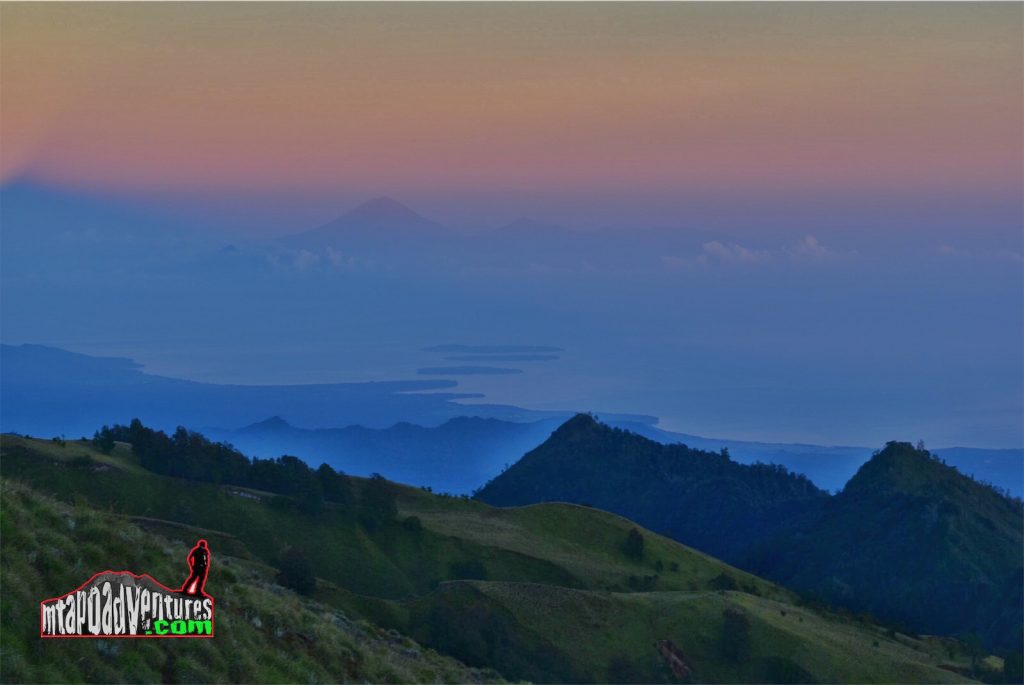 On the 3rd day we woke up with good weather and a hot drink. This time I explore around the camp site and took some photos around which is totally a different site from the other campsite on the other side of the mountain. We had an early breakfast that time then prepare ourselves to go down and hit the trail going down following the trail towards Senaru village.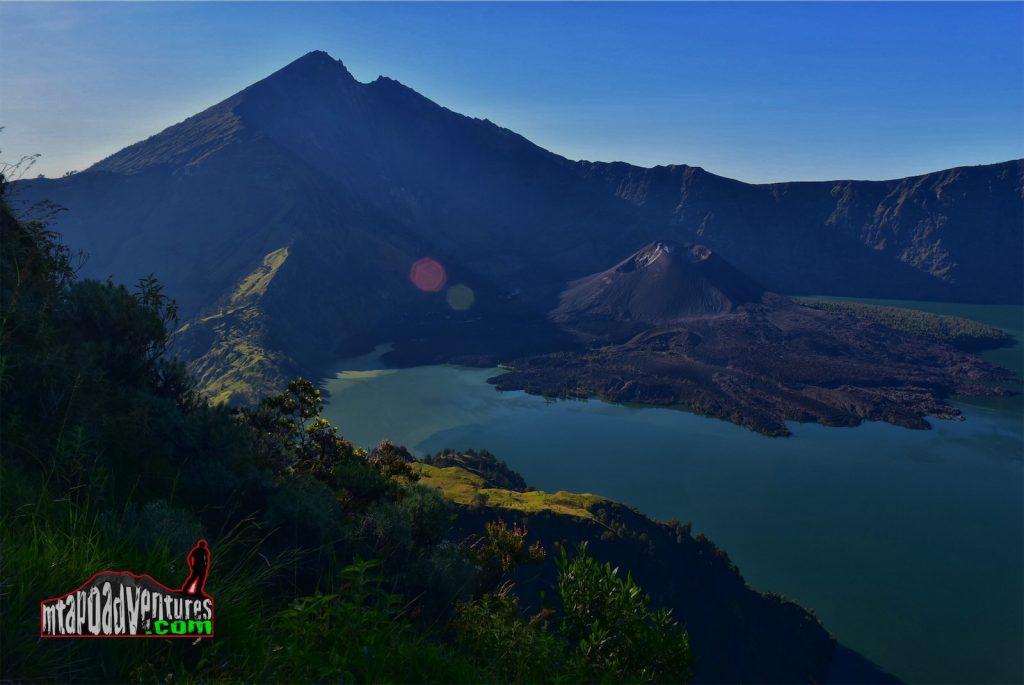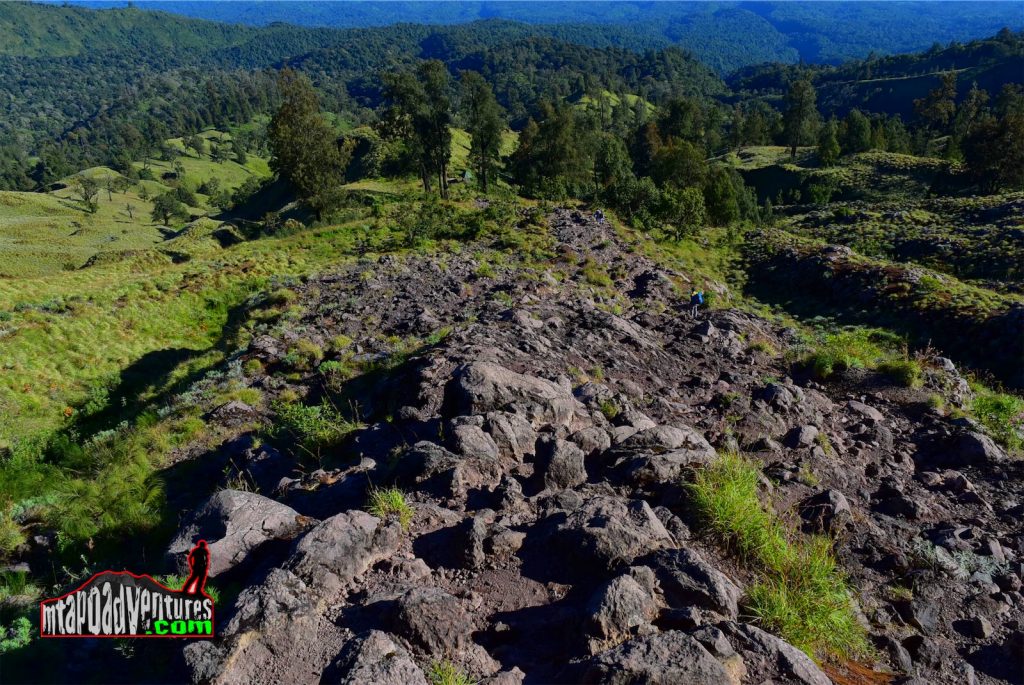 The trail going down is following a jungle trail around 30 minutes trekking from the camp site and at this time me and my group are doing some trail running while descending and having some few stops for rehydration and reach the exit point at Senaru village at noon time where we were picked up by our transportation towards the southern part of Lombok where we will relax after the climb and enjoy the beach.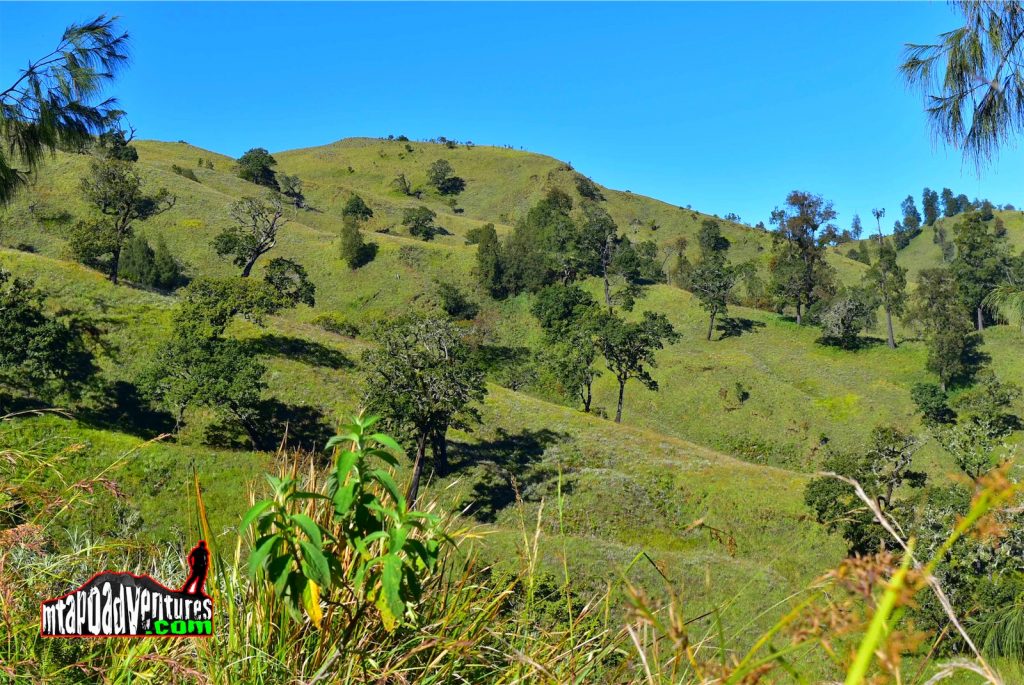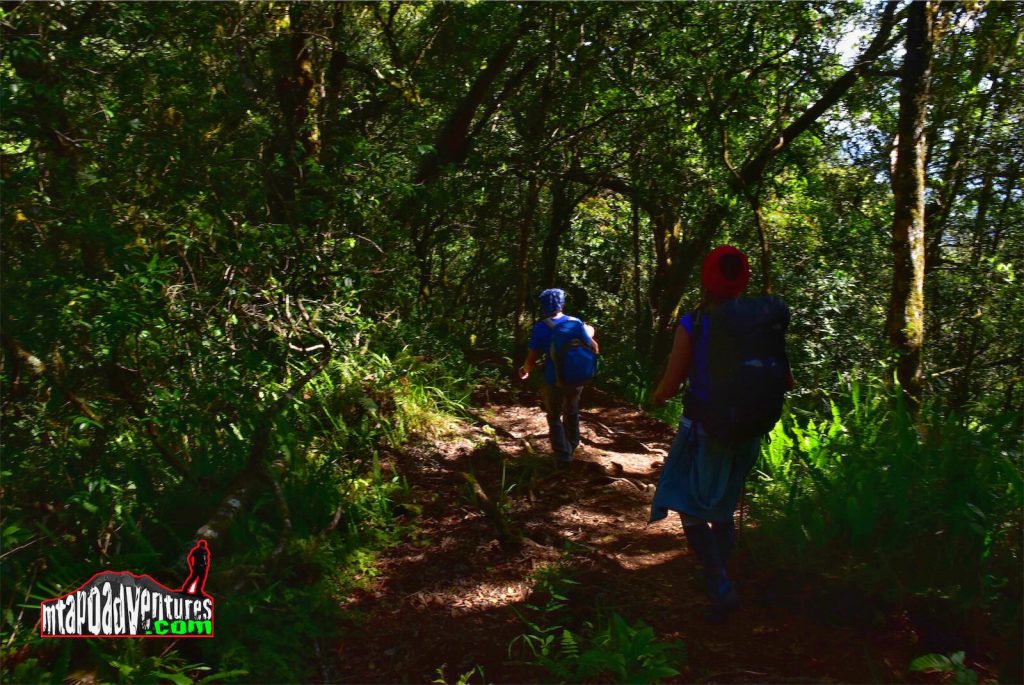 The climb to Mt. Rinjani thought me a very important lesson in exploring other mountains which is not to underestimate a mountain for each has a different characteristic both in good and bad ways that would determine the level of enjoyment you will have.