There will be bumps
Just like any other special day that one waits and longs for, our rendezvous with Mount Apo wasn't without bumps. In fact, it was met with lots.
I almost missed my flight to Manila, which meant I would also miss the flight to Davao. J missed her flight back to work and had to pay for another ticket, so she was a little reluctant to spend more for the climb. The doctor wouldn't give a medical clearance to R while Y and L almost ran out of time getting the results of their medical exams. Y had to be at a conference on the day of our departure to Davao. And the night before the climb, there was news of an encounter between the government troops and rebels somewhere in the vicinity of the mountain. Concerned people advised us not to go anymore.
But with persistence, everything was smoothed out. And fortunately, the encounter was nowhere nearby the trail we were taking so it was safe to climb.
Enjoy the ride
From the city, we boarded a bus to Digos. At the Digos-Kapatagan Road, we had to take habal-habal to the jump-off point at Sitio Baruring. The ride itself was already an adventure. Y and I rode together, with our backpacks propped up on each side of the motorcycle. I was sitting at the back and had nowhere to rest my feet. Throughout the journey, my legs were stretched, almost to their limit. Twice, when the motorcycle had to turn on curves, my left foot rubbed against the road. And at one point while we were on a steep descent, we kept on sliding to the front. Y was already almost standing to avoid sitting on my thigh because I have slid to her seat. Instead of getting fumed with our situation, we just laughed thinking about how funny we looked. We laughed so hard the driver got confused about what was happening behind him.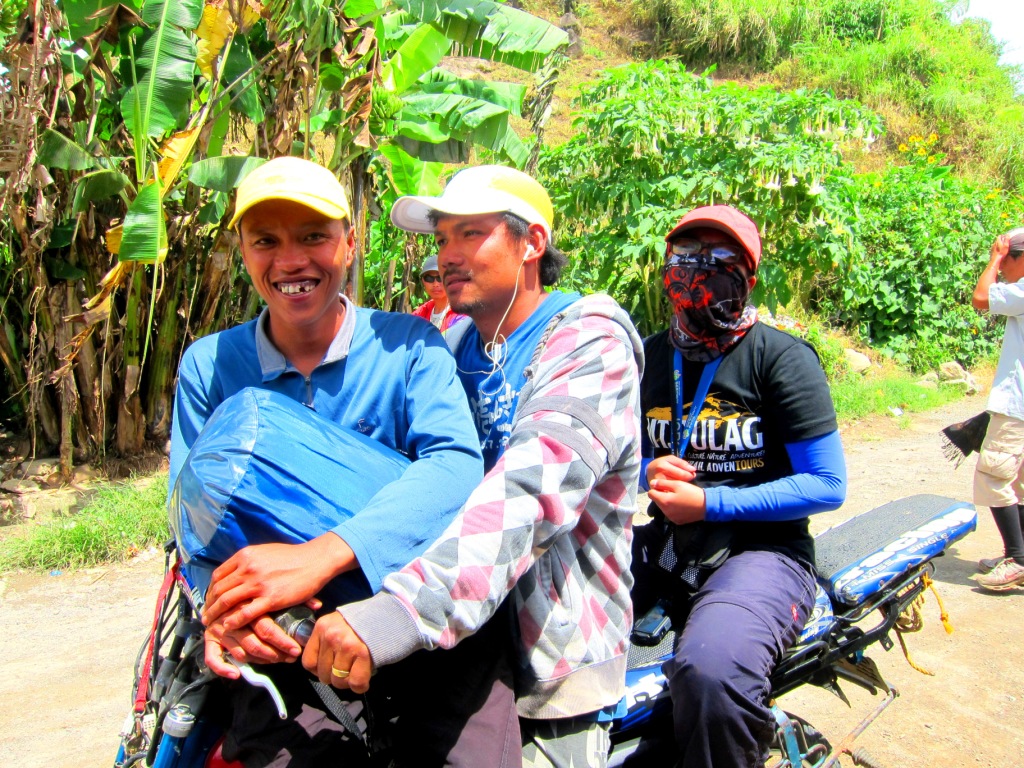 Have at least a Plan B. And be flexible
Our climb organizer, Albert, assigned the Kapatagan trail for us. It was the shortest trail, taking only three days. On the first day, we were only supposed to climb to Tinikaran Camp, summit on the next and spending the night at the summit camp and descend on the final day. Our flight was scheduled on the night of the last day and Albert was a little worried that we might miss it, with possible horrible traffic on the way back to the city due to some ongoing road constructions.
We followed the itinerary for the first day. But instead of camping near the summit on the second day, we climbed to the peak of Mt. Apo with only our packed lunch, water and some trail food. We spent the night in the same place so that for the third day, we had less distance to cover on the way down.
Just do it
I know some people will be frowning at us for not doing enough physical preparation for the climb. We are well aware that climbing is a serious matter, but we just couldn't make time out from our jobs and studies. We only had time to play badminton for an hour in the afternoon and we knew it was barely enough.
We could have opted to postpone our trip until we're already prepared. But we really wanted to climb on Valentine's Day. And besides, we didn't know when everyone of us would be available. So we went ahead.
 When the going gets tough, the tough gets going
 Yep, we weren't prepared. So we had to pay the price. Even during the start of the trek, when the terrain was still rolling, we were already languishing, lagging behind our guides. So imagine our faces when we saw the steep slopes we had to climb once we entered the mossy forest.
Aside from the steep climb, the ground was wet and at times muddy and slippery. Climbing was also like an obstacle course due to the many dead tree trunks blocking the trail. We either had to climb over or go under those trunks to get through. When we reached the camp, we were so tired that we just sat there and didn't assist our guides in setting up.
On the second day, it was the same at the first part of the trail, with slippery slopes in the forest, although it seemed much steeper. Once we got out of the forest, we were greeted by huge boulders and the smell of rotting eggs due to a nearby solfatara. While we were climbing the boulders, the wind would sometimes blow to our direction, carrying with it the volcanic gases. My eyes would hurt a little when that happened.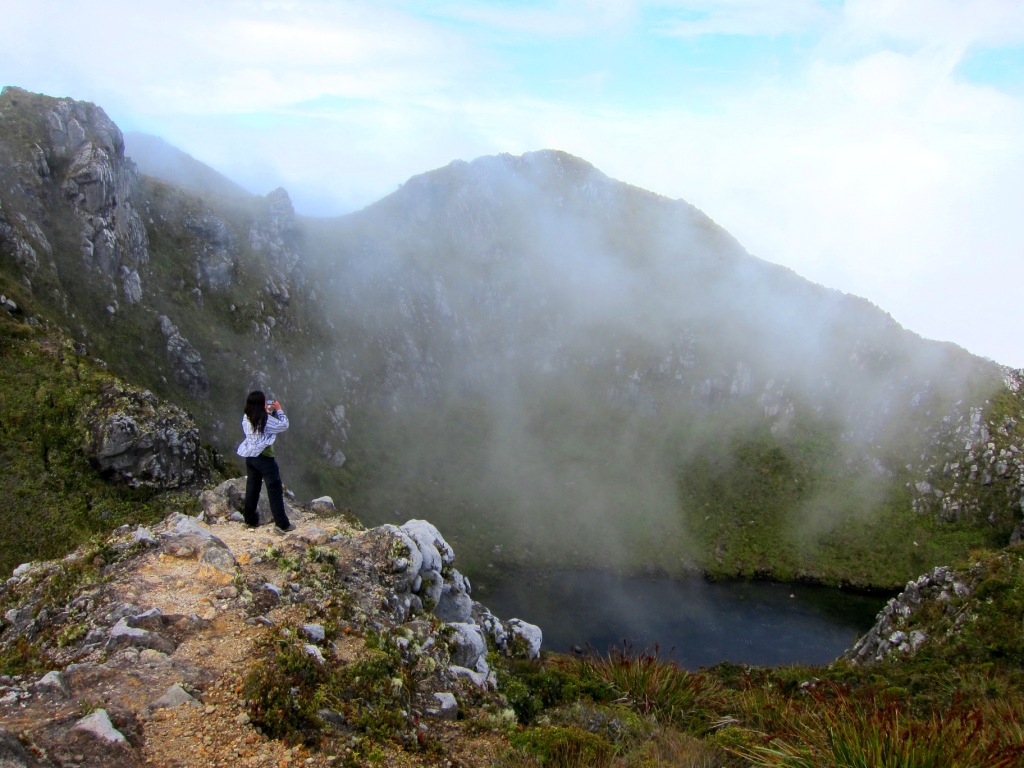 I might have an advantage over the others with my long legs, making it easier for me to hop from one boulder to another. So I asked our guide if it was okay for me to go ahead. He gave me the go signal. Following the poles with yellow ribbons serving as trail marks, I reached a flatter area near the foot of '87 degrees' and decided to wait for the rest of the group. I passed time picking more wild berries which I had been nibbling since early in the morning.
 They arrived in no time and we had our lunch before going to the peak. The '87 degrees' looked really steep. And while staring at it, I was wondering if they were kidding us when they said that it was the way to the summit. Apparently, they were serious. I found out while climbing that it wasn't actually as difficult as it looked. And all of us reached the summit, after six hours.
 Our group may be slow, but we never stopped. And we made it.
Hold on to the things that matter
We started our summit assault at half past seven in the morning. We've already walked for about 10 minutes when I realized that I forgot Ngyaw in our tent. I had to go back. Even if I get to the summit, my experience wouldn't be complete without the cat.
 When I rejoined the group, it was Roy, our guide who then started going back to the camp. He may have realized that our group moves tremendously slow and it might already be dark when we get back. We didn't bring our headlamps with us because we thought that without our heavy backpacks, the climb will be easier.
 But Roy's intuition and assessment of our group was right. He may never admit it, but we're probably the slowest group that he has accompanied in the mountain. It took us six hours just to reach the summit. And although we were much faster going down, it was already evening when we reached the camp. Good thing Roy thought of getting our headlamps that we didn't think of bringing.
On the way up, he told us stories of couples who ended up fighting while climbing the mountain. Apparently, there were some guys who don't know how to be a gentleman. Or whose only goal was to reach the peak, with or without their girl. Or those who acted more girly than their girlfriends.
Guys, hold on to the things that matter.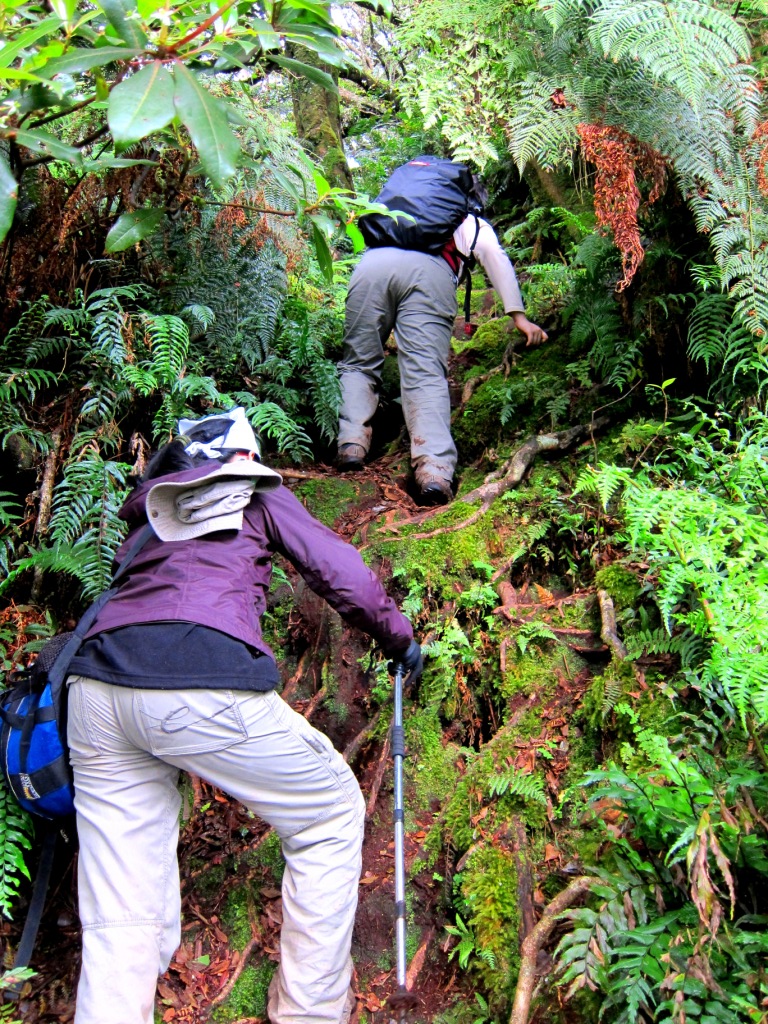 Actually, what I really meant was on very steep slopes, hold on to the trees, their roots, the stems, those things. Use them to pull yourself up and to prevent you from slipping. Our late afternoon badminton games, it seemed, was not without use.
You can't get everything you want. But still count your blessings
One of the things I look forward to when climbing mountains is being able to watch the sunset and/or sunrise from the peak. Since we had to change our itinerary, we would be at the peak in the early afternoon. That was okay, we would have a grand view at the peak right? Wrong. It was too cloudy that we couldn't see anything from the top.
 Our guide told us that the mountains get covered with clouds if the climbers make a lot of noise. So we kept our mouths shut, hoping that the views would clear up. Every time someone made a sound, she would be shh-ed. We waited. And waited. And waited a little more. Until it was time to leave because it was still a long way down and it was getting late.
 Was I disappointed? Definitely not a bit. Despite the clouds and the slight drizzle during the first day, it didn't rain while we were walking. We got there and back safely. And most of all, we accomplished our main goal, which is to reach the peak of Mt. Apo.
 But still, I want to go back. For the sunrise. For the sunset. Some guys have proposed to their significant other at the peak of Mt. Apo. To my future special someone (if ever you exist), there's an idea.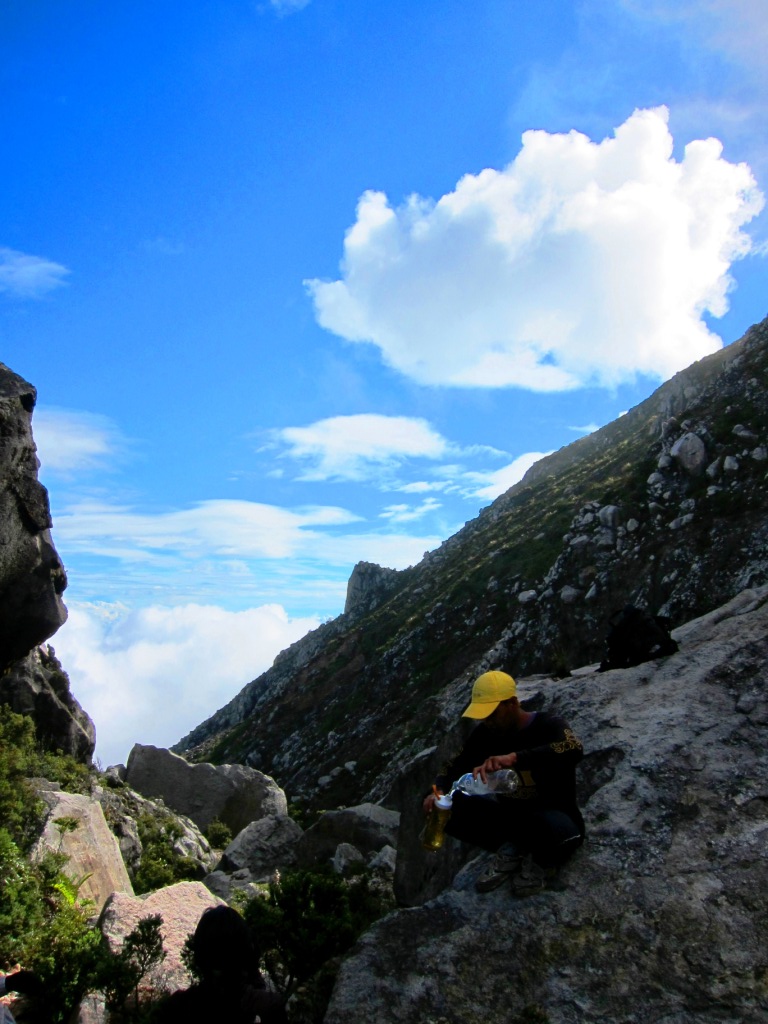 What doesn't kill you makes you stronger
We were running out of drinking water on our way back to the camp from the summit. It was still a long way down. Our guide asked us if we wanted water. We said yes and he started climbing a huge boulder. It rained the night before and puddles of water accumulated on depressions on top of rocks.
We were a little hesitant to drink it, fearing for our stomach. But we were also thirsty. The water tasted like a much diluted iced tea. It wasn't that bad. And no one got sick.
Eat the berries
Okay, it's obviously not a life lesson. But yes, try the wild berries that are scattered in the boulders area. But avoid eating those that are near the solfatara.
Article and Photo by:  EMMANUELLE  VILLAFLOR