Last October 11-14, 2012 we have the opportunity to trek with a group from 'Climb Against Cancer" (CAC) who wants to conquer Mt. Apo and at the same time help the school children living the foot of the Mountain (Sitio Colan and Tumpis).
The group was headed by Ms. Shirley Sibuyo and Thirteen(13) of her outdoor colleagues joined the group.
Our adventure started in the afternoon on day 1 and arrived in sitio Colan around 4:30 PM and distributed the school supplies to the children there and proceed to Tumpis where we camp there for the night and will distribute the rest of the school supplies there morning the next day  and assault the summit .
In the afternoon we arrived at the summit but did not catch a  good sunset but Mt. Apo gave us a good sunrise and did some photo-ops for the memories,,,,
On our original plan we will Traverse to Kidapawan trail on our way down but on Day3 we saw Lake Venado full of water so its gonna be an knee deep muddy trail to cross it in order to set foot on the trail on the other side and at the same time it was rainy season. Marble river is a very tricky part of the trail since its on the last part and prone to flash floods specially if it rains in the afternoon.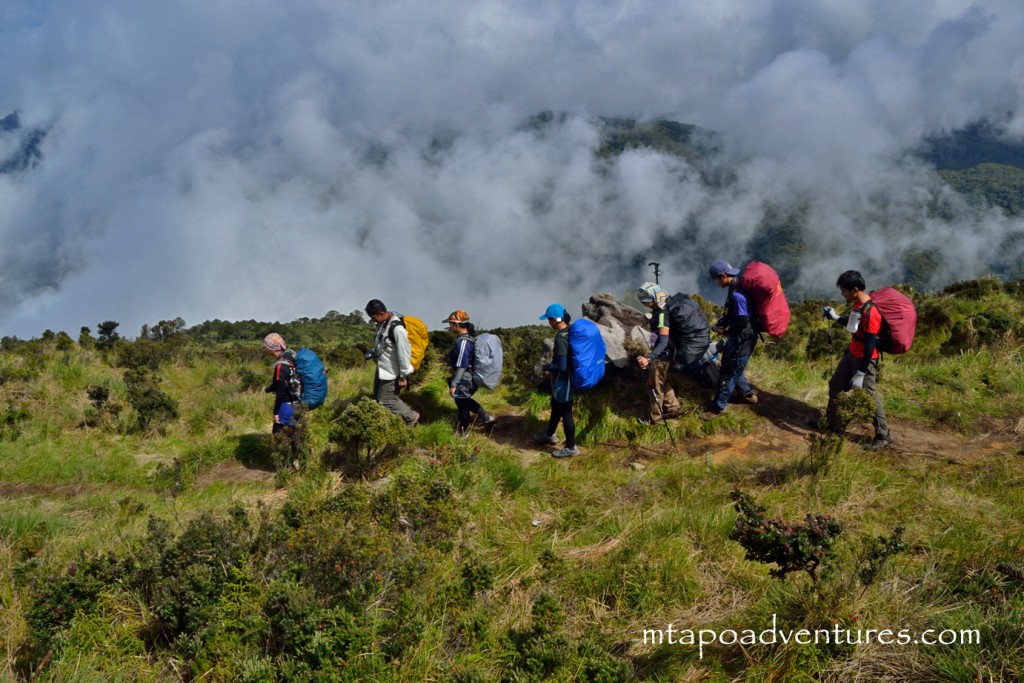 Due to the conditions and assessment of the situation we took the Makilala Trail instead and passed the Geothermal Plants reforestation project and hiked Mt. Zion (the Summit on the Western part with a white cross if your standing on the center peak of  Apo). Its almost 20 Km from summit to exit point with lush forest on the other side.
We reached the summit of Mt. Zion at around 2:30 PM and stop for a short rest and snack and enjoy the scenery at this part then went down to a small village called Sitio Makalangit where we are going to spend the night .
It was dark when we arrive the village and  everybody are exhausted , hungry but is in good shape. On the other side our host in village is very accommodating by offering us her house for us to stay instead of sleeping in our tents.
We enjoyed pasta for dinner and celebrated one of our guest Natal day at that night since it was also a Birthday climb.
The next day(Day4) , we resumed the trekking down to Brgy. New Israel for almost 5 hours , had our lunch along a small creek the arrived there at around 1:00PM did some sight seeing and play with the monkeys around then ride back to Davao City .
Home sweet home.