April 9, 2015. We arrived at D' Counter Inn where a night accommodation and free breakfast are included in the tour package. It's just a few steps away from People's Park of Davao City. Around 6:30 pm, we had the chance to meet our tour guide Albert Gabriel and had our briefing. First impression? He is very amiable and knows a lot about what he does. It'll be my first longest hike and since I had no physical preparation before the climb, I had so many questions. He was able to address them and was able to assure me.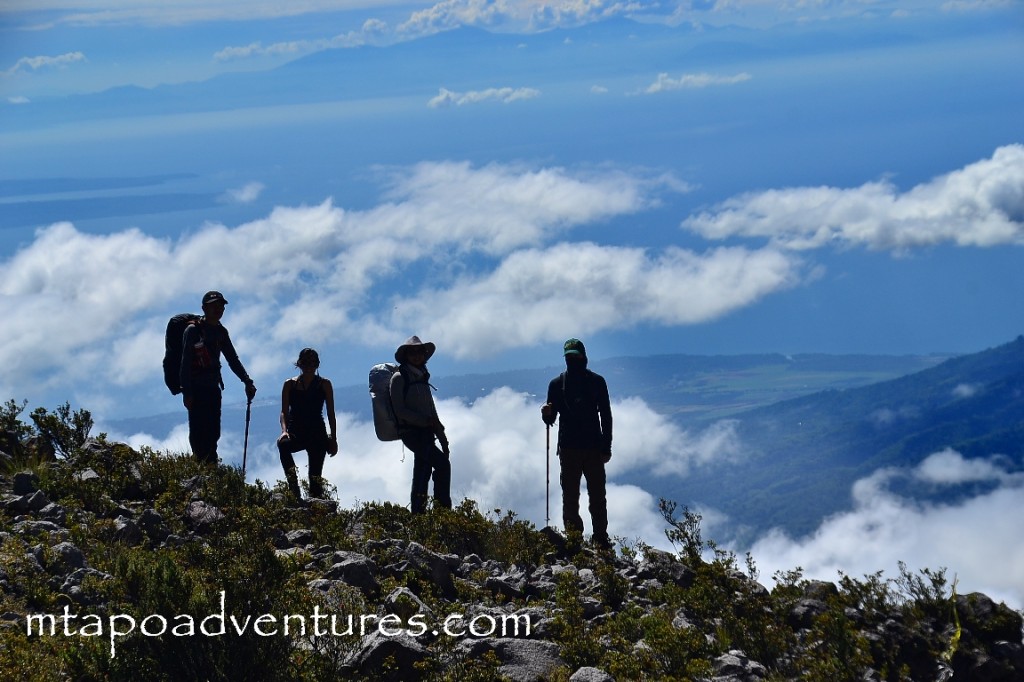 April 10, 2015. We woke up early to meet him and the other climbers in the agreed place where we can ride a bus. We reached Sta. Cruz around 6am. From there, motorcycles (habal-habal) were waiting for us. Before reaching the last town, we passed by the Mt. Apo Highlands.It was foggy and really cold there. And my ears were starting to tingle. So, I suggest you wear a jacket with a secured hood even with the strong wind.
We continued riding until we reached the last town where we had our breakfast and bought our take out lunch. By then, I've already noticed Roy, one of our porters. He has that positive disposition and he smiles a lot. He and the other guys are fond of teasing each other and joking around. Roy could make a joke out of something. I like him.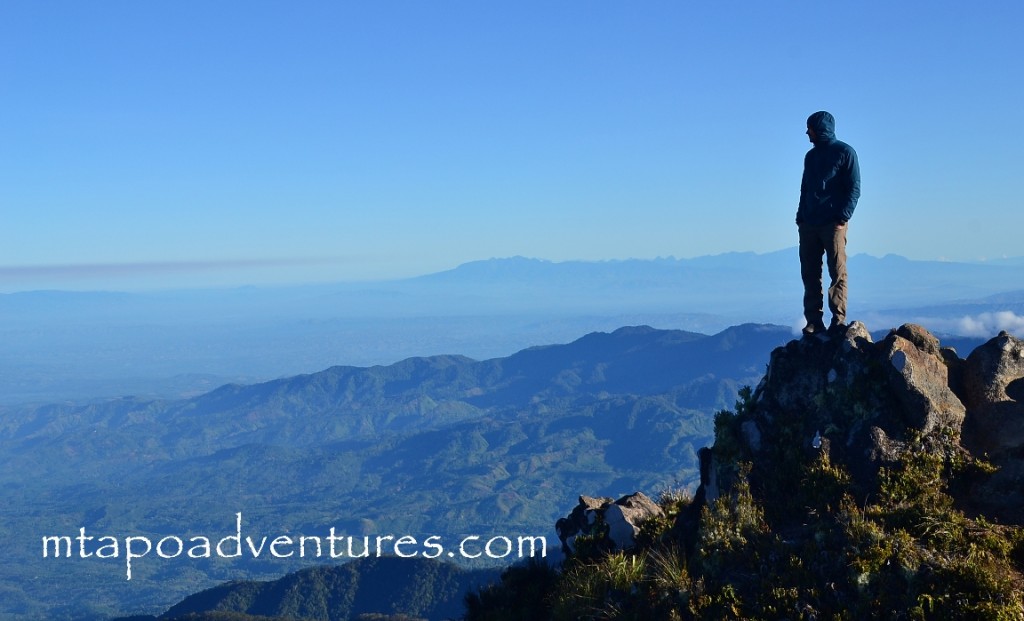 We then proceeded until we reached the foot of the mountain in Sibulan. Before you reach SitioColan, there would be a house near the trail. If you get lucky, a boy will greet you. In my case, this is his greeting: "I'm now 1 year old." He doesn't say his name. He prefers his age. LOL I hope you can give him a chocolate too.
After proximately 3.30 hours of hike (depending on your speed), you will see the White Trees (as I call it). They are covered with white lichens. Those were amazing because lichens are composite organisms that only grows in zero degree Sulphur Dioxide air pollution. Another 30 minutes of hike and you'll see the Mystery Rocks (again, as I call it). It must be one big rock before. If you like abstract art, you can try this one. As for me, I saw the higher rocks forming two eyes looking down and a robotic nose. You might see another figure though. Another two hours and we reached Tinikaran Campsite 1. As my fellow climbers and Albert, our guide were discussing social issues and global issues, I was in the tent. I was so exhausted that I must be snoring! LOL At 5:30 pm, our dinner is almost cooked. I noticed how Roy and Cook George are very bonded. Such a brotherhood! Cook George made Sinigang. It was very good. His gentleness and his love for cooking reminds me of Kung Fu Panda I watched with my nieces. I started calling him "Papa George".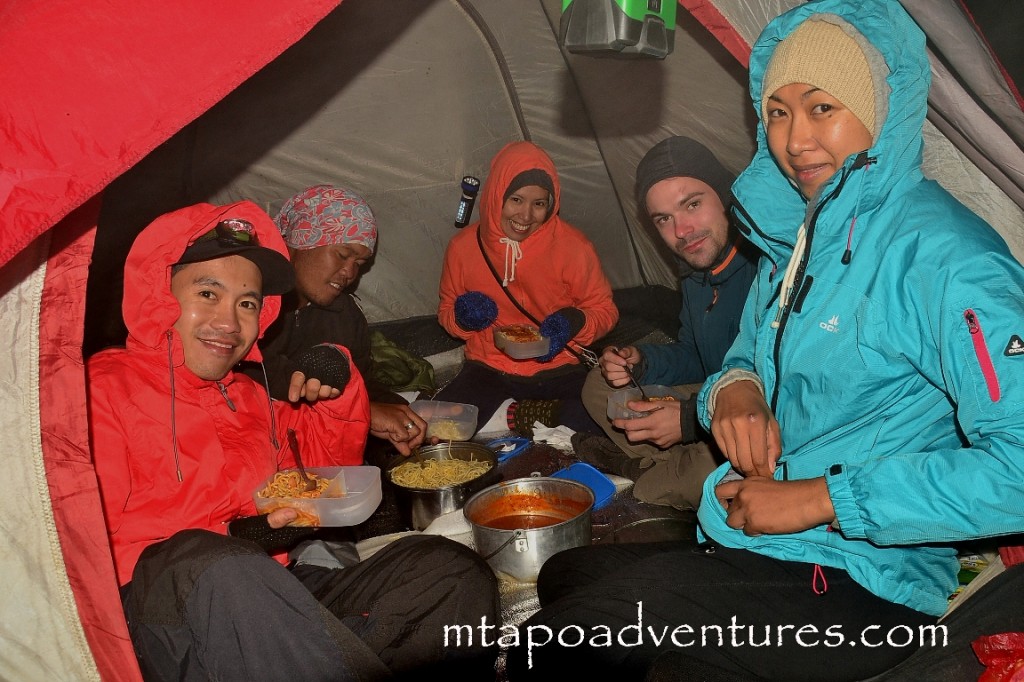 April 11, 2015. After breakfast, we continued with our climb. Proximately 1.30 hours of hike, we reached the sulfuric area where the mountain emits smoke from the near distance. Just some minutes and the bouldering begun. Papa George cooked an awesome meal again. We had lunch around 12:30 pm. Before 2 pm, we reached the crater and had some photos there. After few minutes, we reached one of the summits nearest the Sta. Cruz trail. Before 3 pm, we reached the highest summit. Albert gave us a bit of treasure hunting game. Taylor Hobbs, the Canadian guy and Lilybeth Duran, the Austrian citizen Filipina found it. Four of us put something memorable there. There's a small notebook to write your name as well. Some wrote quotes. I wrote a short story. But the wind was blowing hard at that time and the sun was hidden by the clouds, so I was writing with shaking hands. Before 4 pm, we went down to the campsite. It rained the other night,(I actually have wet jackets because the rain got inside near my head.) Thus, it's not much of a surprise to know that the group before us got zero degree Celsius at the summit's campsite.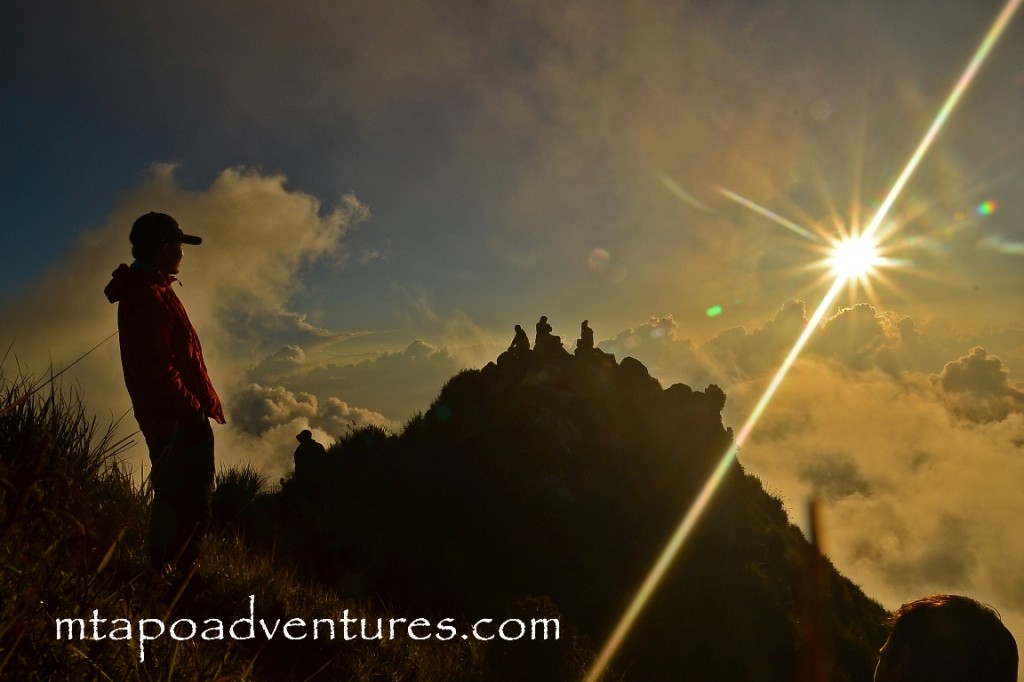 Nighttime was approaching and the drop of temperature wasmore than I can tolerate. I had 2 T-shirts inside, 3 jackets, 2 thick knee-length socks, and 2 thick regular socks and still I was shivering. It was getting 4 degrees Celsius. Before dinner, we all gathered to Albert's tent and had socialization time. Some drank beer/ rum. It seems to me that we disregarded personal spaces at that point. We started to come out of our shells, especially me, a reserved person. I spent some time to the crew's tent too. I had such fun and we were laughing so hard about the jokes usually Roy would throw us. I enjoyed the simplicity of life with nature and good companions. I concluded it was truly a vacation.
April 12, 2015. The group went back to the summit for the sunrise photo. I climbed back late accompanied by Roy. I needed more coffee. I barely slept and I needed caffeine to make me survive the 1 day trekking down Mt. Apo. Around 8am, when everything was ready, we went down.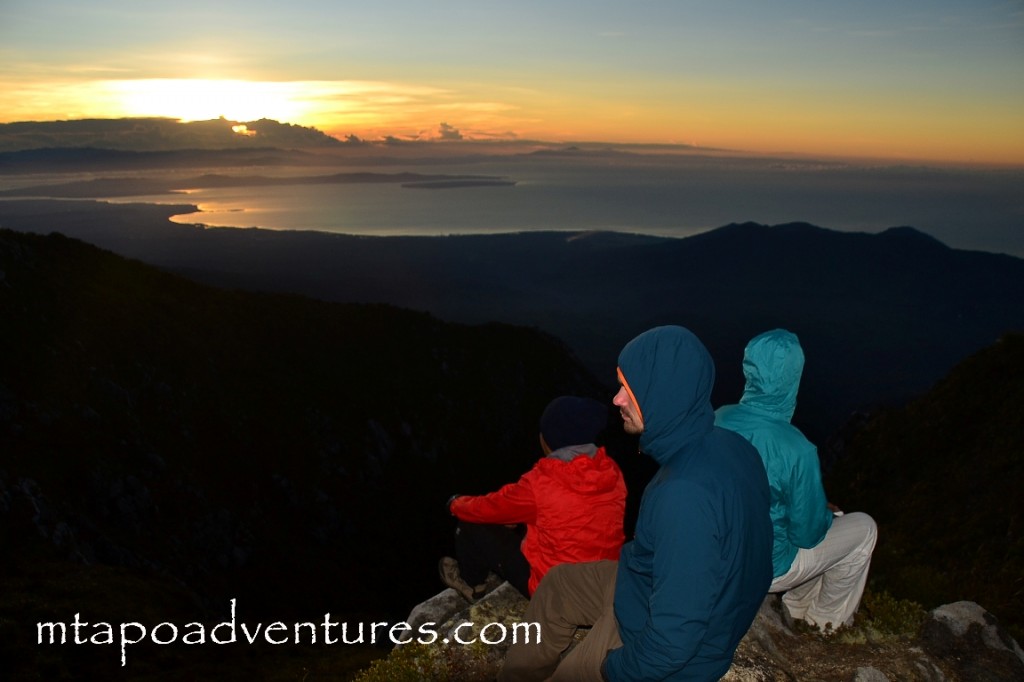 A vacation in Mt. Apo is a good choice. Nature has its way of giving positive energy. Nature can reset our biological clock. Nature can make us appreciate the simplicity of life. One of the good things is that we were with a superb tour guide Albert, who never pressured us with our speed. He checked on us making sure everybody is safe and having a fun journey. Albert is a good conversationalist too. What impressed me most with Albert is that he is engaged in humanitarian and indigenous activities like I do.
" I came. I saw. I conquered." You also will…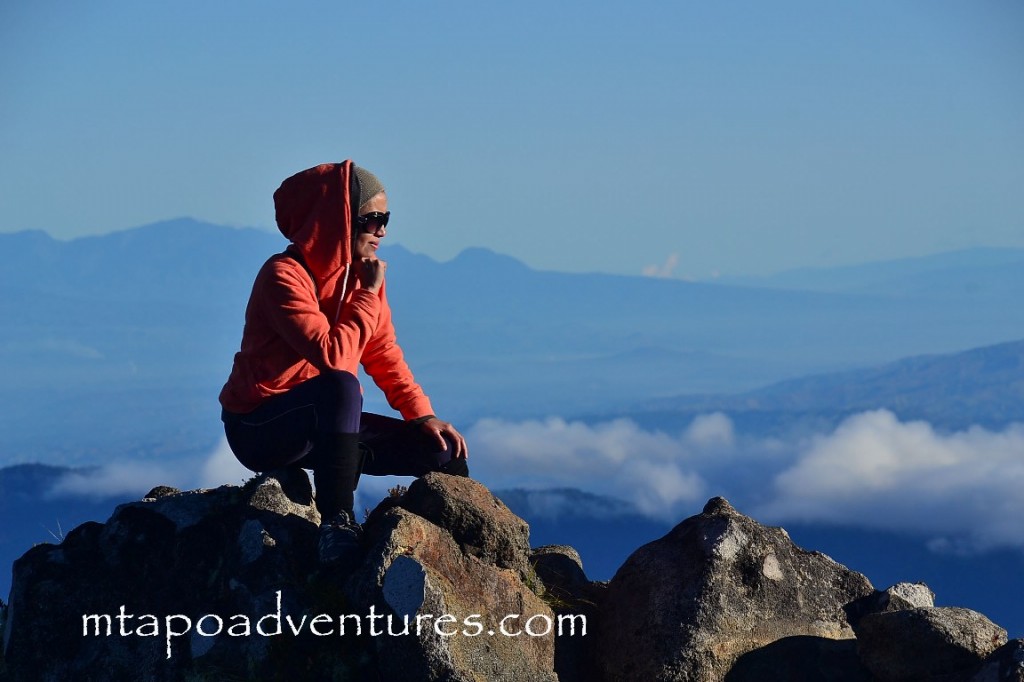 Article contributed by:
 Ms. Marisel Atam