Being the tallest mountain in the Philippines, Mt. Apo attracts hikers from all over. When I told my sisters I wanted to go, they immediately volunteered to go with me. I was actually surprised since they are not regular hikers, and Mt. Apo only happened to be the tallest mountain in the Philippines. But they said go go go, so OK.
After some research, we decided to do the Kapatagan-Kidapawan traverse and book the trip with Kuya Albert of mtapoadventures.com. Our package included a guide, two porters, camping materials and food. Kuya Albert was very responsive from our initial inquiry to the day we met him for the orientation.
Monday, Nov 23. Our flight was arriving in Davao early and we set to meet with Kuya Albert at Jollibee at 9am. We weren't planning to eat, but when we got there we felt hungry so we ordered breakfast. We gave Kuya Albert our Application forms & medical certificates and he briefed us about the hike and introduced us to Kuya Paul who will be our guide.
Kuya Paul took us to a bus ride for about an hour or so. When we got off, there were two habal-habals waiting to take us to Kapatagan, where we will stay for the night.

We arrived at Camp Linaw just before lunch.  It was very peaceful and serene. They had a koi pond that had some tilapias in it too. I think we were the only guests that time (it was a Monday). We were lead upstairs, which had 2 rooms. The mattresses were set up on the floor, but they were comfortable. It rained starting around noon, and Kuya Paul was kind enough to offer to buy food for us, which we graciously accepted. We also met Kuya Buboy, one of our porters who lived in the area. He dropped by to say hi. All in all, our stay at the camp was restful and enjoyable.

Tuesday, Nov 24. We set up to leave at 6:30am. We stopped by a carinderia to have breakfast and get our baon for lunch. The habal-habal ride to the trailhead was a foretaste of what's to come. All three of us rode in 1 motorbike, plus the driver.  So imagine four adults in a motorbike, trying to navigate some very tricky, muddy, and slick hill….I think I stopped breathing a few times. There was a portion too that one of us (me!) had to sit in front of kuya driver, otherwise I will fall at the back. Since I could then see the path in front of me, I got more nervous! Kuya driver even remarked, "Ma'am relax lang po kayo, naninigas po kayo eh." Bwahahahaha! Kalurkey!
We couldn't reach the trailhead fast enough, and I was just happy when we did. There we met our second porter, Kuya Nonoy. All groups are required to have a "local" porter (from the villages in the mountain) and Kuya Nonoy was ours! He carried our tents/sleeping bags/ cookware/food while we gave Kuya Buboy one backpack for our extra stuff and on we went!
We started the trek maybe around 730am. First five minutes and we were already sweating! We reached a village -it's probably Sitio Colan – where there were some open cottages, so we rested there for a bit and removed some layers of clothing.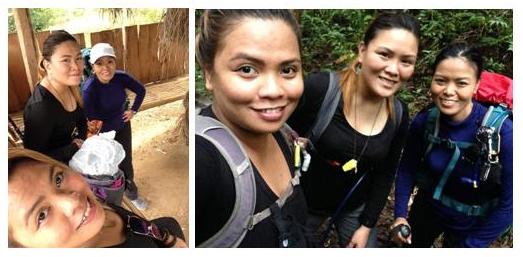 We passed through vegetable farmlands and we saw some pretty flowers along the way.

We reached Sitio Tumpis where the sign said "10.07km to Mt. Apo summit" so we knew we were still far! Hehe. Soon we found ourselves in the forest! It rained around lunch time as well. We stopped to eat lunch somewhere not too rainy. Hahaha.

While on a break, the kuyas started discussing which camp site we would go to. The original plan was to camp at the summit on the first day. As I expected, we were hiking slower than planned. After weighing our options, we decided that camping at the summit was out of the question. That meant we had to go through the boulders at night, which wasn't safe. Instead, we camped just past Tinikaran Campsite 2 (there was already a big group camped there when we arrived).

The kuyas found a nice flat place in the middle of the foggy forest. The place felt magical!! We were immediately offered hot drinks (coffee or milo) by the kuyas! What a welcome offer on that cold rainy day! They set up our tents and we were able to rest for a bit while the kuyas started cooking! Dinner was sinigang!! Woohoo!!

We also refilled our water containers from the water source, which was this little basin of water on a stream. It didn't seem clean to me and I was battling whether or not to use my filter, but the kuyas insisted that the water was good. So….here I am and I lived to tell the tale. We had dinner and afterwards it was just chikahan with the kuyas. I was so cold, Kuya Nonoy offered me a drink from his plastic water bottle! I asked what it was and he said "Tanduay ma'am." Well I never had Tanduay before! Indeed, there's always a first time, so I took a couple of shots…and it did help. J We spent the time just chit-chatting and playing some music! All this and we were probably asleep by 8pm. Hahaha.
Wednesday, November 25. I know it was still early when I heard some rustling outside and …someone played music! It lasted for about a minute then all was quiet again. We would found out later that morning that it was Kuya Nonoy. He got up, fetched some water and started playing music – because he thought it was 5am already! Hahaha!
We had a quick breakfast…and a cute little monkey decided to join us! We watched him for a bit, packed our lunch and set off to tackle the boulders!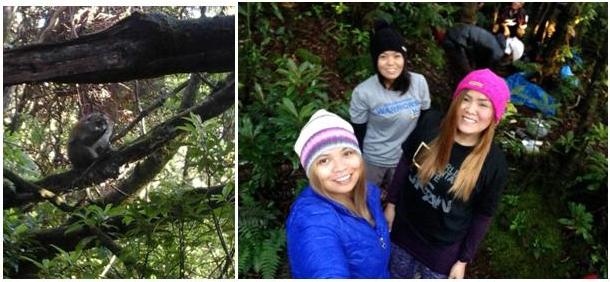 After a short walk, we saw the sign! All smiles pa kami dyan!

The boulders are a unique feature in this hike. It proves that Mt. Apo has erupted, though it is not historically known when it did. There were tricky parts on this trail, and we're glad we didn't have to do it the night before. We also saw the sulfur vents.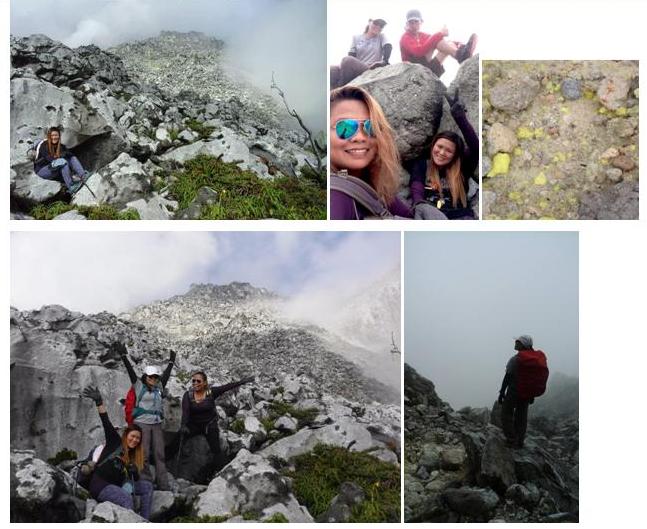 Soon I saw the mini rock tower that they said we could clmb it! "Uhhhmmm….medyo madulas kuya!!" The kuyas helped me out…so that's actual rock-climbing for me! 😛 Thank you to Kuya Nonoy & Kuya Buboy.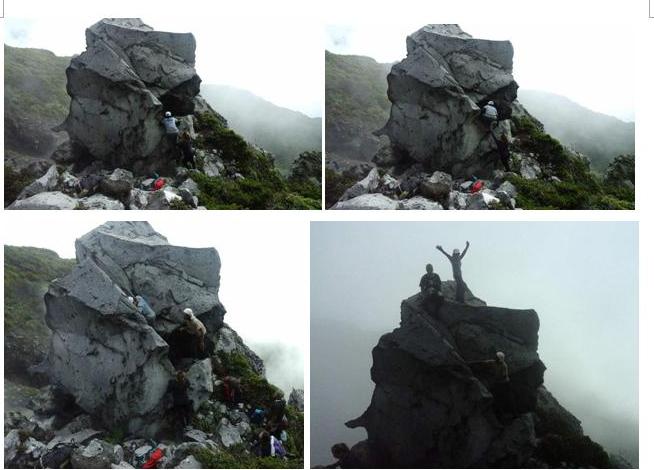 After the boulders, we came to what they called "white sands" and it started raining again! Kuya Buboy once again had ready hot drinks for us!! Milo ulit sa umuulang hapon! Service de luxe!!
After the quick break, we tackled the "87 degrees" hill. We had to scramble a bit and after that we saw the crater. I was ahead of my sisters for a bit, and it was raining hard, so my pic at the crater was really hazy. When they arrived, the rain mellowed a bit, so we had a better picture! We could also make out some of the names creatively placed at the bottom using stones…

Moving up a bit more…and we're at the summit- Davao side!! We were so giddy when we reached the summit! Finally! What an effort! It was raining still so the shots were hazy…we didn't care. We reached Mt. Apo's summit!


Well, one of its peaks anyway, and not the highest one, apparently. There's another one that's 10m higher about half an hour away. Unfortunately, given the weather and our fear of not reaching Lake Venado before dark, we decided to forego going to the other peaks.
We had lunch at the summit camp. It was windy and very cold in the area. I tried jogging back and forth to make myself warm. Kuya Nonoy had refilled his Tanduay (courtesy of the porters from the other group…hehe) so he offered me some. I took a shot and I was good! 😉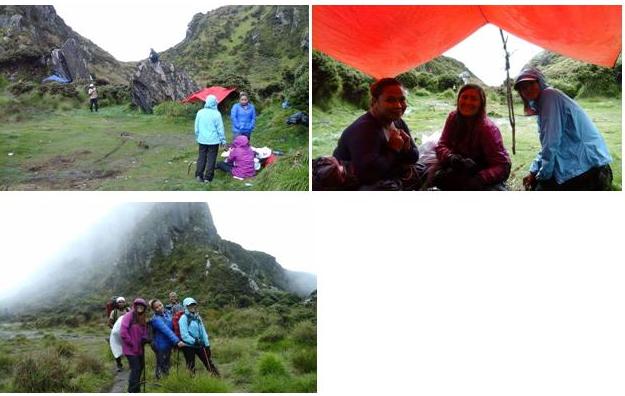 The trail down to Lake Venado wasn't easy but it wasn't too bad. There were parts that were slippery but manageable. By this time we were already used to holding on to roots, stems, trunks – whatever we could hold on to so we wouldn't fall. My sister and Kuya Buboy were running stats on who had more falls. About an hour to camp, I saw Kuya Nonoy who was going back again (he did the same on the first day!) to take my sisters' packs so they could walk faster. Ang bait talaga!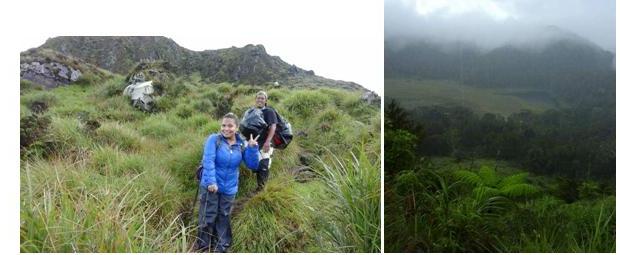 When I reached the camp, the tents were already set up! Great, I thought, because I was feeling so cold already, and I just wanted to get into the tent to get warm. It was another tiring day.

My sisters arrived about half an hour later, also very tired. It was still raining too, so we just stayed inside the tent. The kuyas creatively placed the tarp between our tents so they can cook the food there and we can eat inside the tent. J Dinner was spaghetti. J We ate to our hearts' contents and there were still lots of leftovers! Good thing too, because it seemed like the porters of the other group weren't being fed properly. L We slept early again that night, while the kuyas spent the night bonding with the kuyas from the other group (they had 7 porters!!)
Thursday, November 26. As has been our routine, we woke up early. We were mesmerized by the scene.


We couldn't help taking pictures!!
After breakfast and before we left….we took some more pics!
I think by then Kuya Nonoy had no more inhibitions, as evidenced by his pose! Hahaha!! After all the pics…off we went.

I'm really glad we did the traverse. Otherwise we wouldn't have seen this side of Mt. Apo. And we would have missed the magical Lake Venado! But the fun was far from over — the Kidapawan side had a lot more surprises in store for us!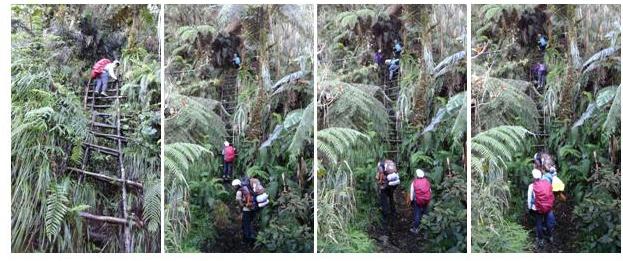 Ladders! There would be more ladders than I could count on this trail. The first one was really scary. After a while, we got the hang of it…
And then there were the river crossings. Those were another story altogether! There were tree trunks or some made-up ladders you could use to cross…but most were thin and slippery! And if you fall…well, you're just gonna have to deal with it! Nakakaloka!! The kuyas were very helpful at the crossings. There was one time, they even invented a hand rail, with Kuya Nonoy & Kuya Paul holding each end, while Kuya Buboy was taking our picture. Da best!


This third day was tiring but still so much fun! By then we were used to our heavy packs and really just enjoying the trail.
We passed a sayote plantation! Hehehe. So many big and nice-looking sayote! We learned that the villagers took them and sold them at the bottom of the mountain. Nice.

My sister also sprained her ankle toward the end, so I carried her pack for her on the way down. When we reached the last village, and the trail was once again going up, Kuya Nonoy took the pack from me and I willingly obliged. Wehehe.
Before we knew it, we were done!! Wooooo!! So tiring, yet so fulfilling!! Thank you Lord!!

Afterwards, as a thank you to our kuyas who took good care of us, we asked them to join us at Lake Agco resort so we call all take a well-deserved bath! It rained hard again after our dip at the hot springs, and we hung out at Lake Agco for a while before taking the habal-habal back to town. We had dinner of litson manok & liempo at Boyak's – a befitting celebration for one awesome hike!

If you've reached this part, congratulations! Either you're a very patient person, or you're really interested in climbing Mt. Apo! As you can see from our pictures, we had a great time. Even my sisters, who were newbies and didn't train so much, definitely enjoyed – though there were times they looked like they wanted to give up. Hehe.
We can't say enough about Kuya Paul, Kuya Buboy and Kuya Nonoy. There were times when all three of us weren't together because our paces were different, but all of us always had a kuya with us! J They made sure we were having fun too. The jokes and life stories were definitely part of the awesomeness!
There are some hikes that you do once and you're done. For me, Mt. Apo is a place I won't mind visiting again.
Article and Photos by:
Ms.JEANETTE CASTRO