Hiking in and around my neck of the woods is something I do 3-4 times weekly if not more depending on the weather. Apart from this, I have hiked part of the Lycian Way & Babadag mountain in Turkey, the Palestinian desert, Camino de Santiago and in my own province, I have hiked the Juan de Fuca Marine Trail, Garibaldi, trails on Whistler and the Wells Provincial Park to name a few. I was prepared for Mt. Apo, or so I thought…
My personal adventure started on the motorcycle ride from the Bus Terminal on ?Digos?
A few years ago in Turkey, I took the risk of a motorcycle lift. The risk was not the trail but hitching a lift from a stranger. So I thought I got this… but the shock of seeing 2 heavy packs plus my own strapped on the motorcycle was just the beginning of the many "Are you sure you wanna do this?" moments. Then, of course, 3 bodies on this narrow-bodied motorcycle! I found the ride exhilarating, to be honest until…the part where the road got rocky with numerous potholes. The ride got so rugged I was sure I was going to get tossed out of the motorcycle and OMG, no one was wearing a helmet. Behind the motorcyclist's ear I screamed, " Are you kidding me?" " What the hell!"  "WTF!" etc I wonder what he thought of me?!
To my relief, we arrived at the dam site( I can't remember the name of the place) where we started hiking.
Day 1
I so welcome the sight of the villages and the villagers doing their usual daily chores. My impression was how happy the children seem to play with each other in nature. Right then and there I prayed that may this part of the world stay like it is for many more years to come before climate change and technology leave its disastrous mark.
At 32C I welcomed the entry into the woods, it was much, much warmer than what I'm used to. The flora was a feast for the eyes; the fauna's incessant chatter was music to my ears. I would have liked to linger longer at each "new" thing I see but we were already behind schedule as it is and so had to establish camp at Tinikaran rather than Camp 2.
Tents were set up, the welcome meal amazingly prepared, after a few housekeeping instructions i.e. where to do #1 or #2, it was bedtime. It didn't take long for me to doze off only to awaken a few hours later by the "Battle of the Musangs". Man, they were loud! When I peeked out of my tent I saw a pair of yellow eyes glaring at me. I quickly zipped my tent again.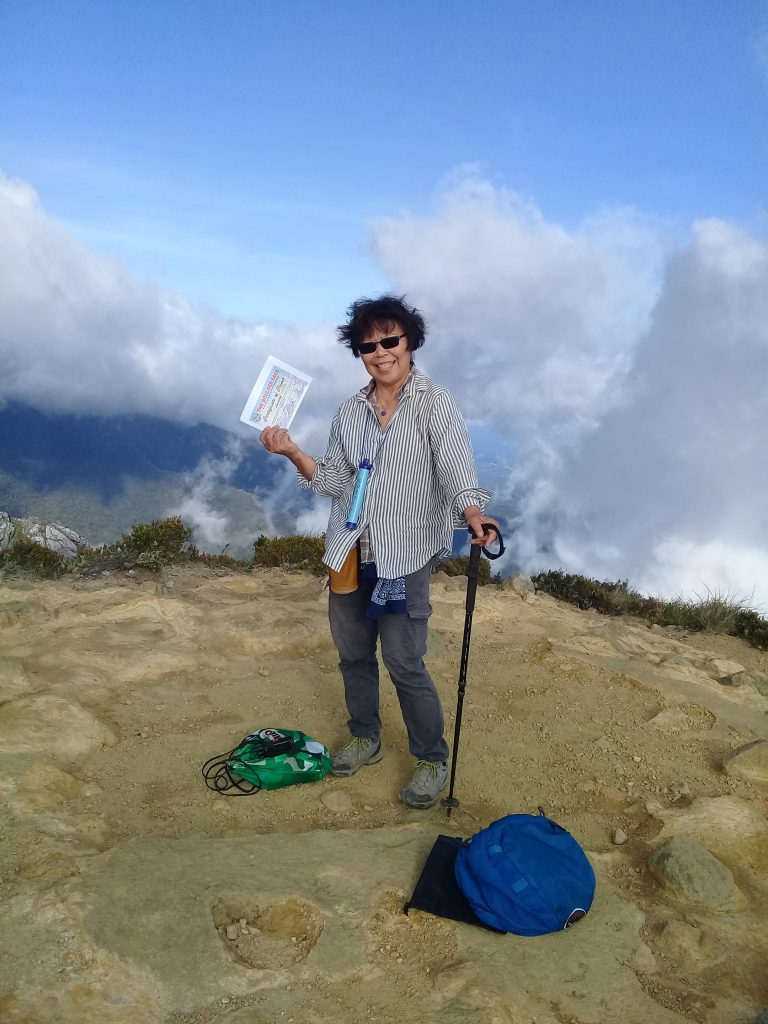 Day 2
After a breakfast of porridge, rice, eggs & tea we set off to another of Mt. Apo's "reveal". I was warned that Day 2 would be more difficult and though I'm still moving slow I found Day 1's heat was more draining than Day 2. Challenging though pulling one's self through the roots, hopping/climbing in and around the tree stumps, the lava rocks, and boulders, it was "cool". The sulfur vent, though I found awesome, gave me a headache. I suppose this is the reason I didn't see any birds flying. I would have run away from that environ if I could. We had lunch at Gabroq E-Camp. It was amazing to see the source of all the lava rocks. The crater didn't seem big enough to have belched out all those ginormous rocks and boulders but obviously mighty.
We camped out onWhite Sand.
After dinner, Voltaire took me up to the first peak. It was anticlimactic. Voltaire was somewhat disappointed that I was not whooping and hurraying. My reply was, we're only halfway, we have to descend yet! To his credit, Voltaire really wanted to take me to the second peak but that would mean going back to camp in the dark and I opted out.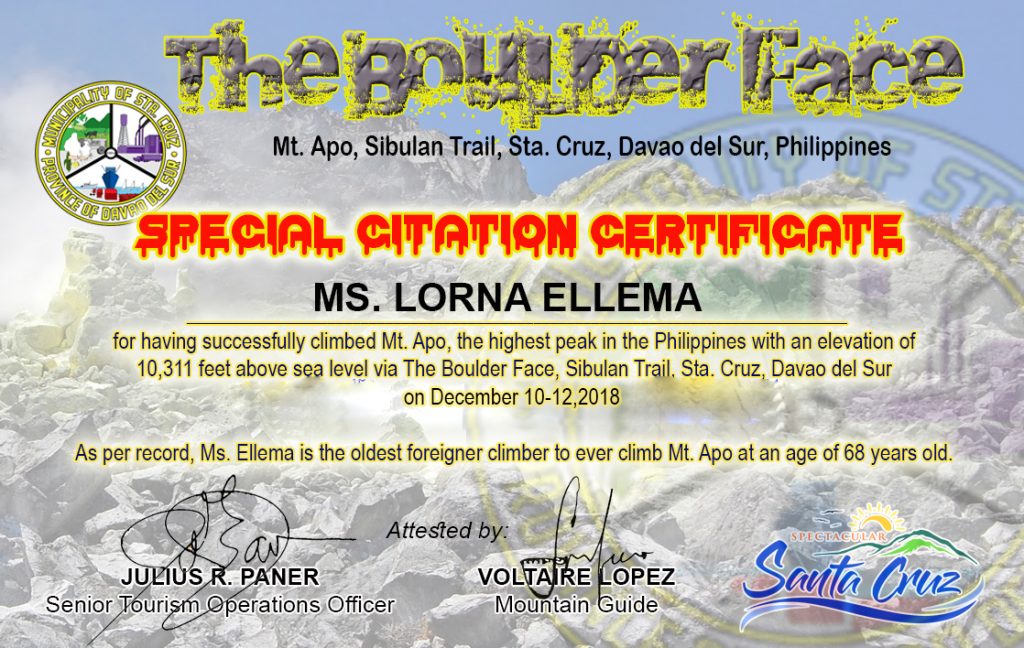 Day 3
After a hearty breakfast, we started our descend in the rain the same way we came up. I respected Voltaire's decision and rationale for doing so because I am such a slow poke. The wet sulfuric rain was stinging my eyes. Back at Gabroq, Voltaire was hopeful..we were doing good time or so he thought. Apart from being slow I was stopping quite often and looking back intently at the sight we are leaving behind. I felt I needed to imprint it in my brain coz a camera would not do justice.
My troubles began halfway down when the agony of my knees started to manifest its age which has been my nemesis on every steep hike. Voltaire was very encouraging all the way. Jun was ready to give a hand and towards the last village, I had to surrender my backpack to Jun. The last hour was terrifically agonizing. And the ecstasy? Seeing MacMac and his motorcycle waiting for us. I yelled, "Am I so glad to see you!"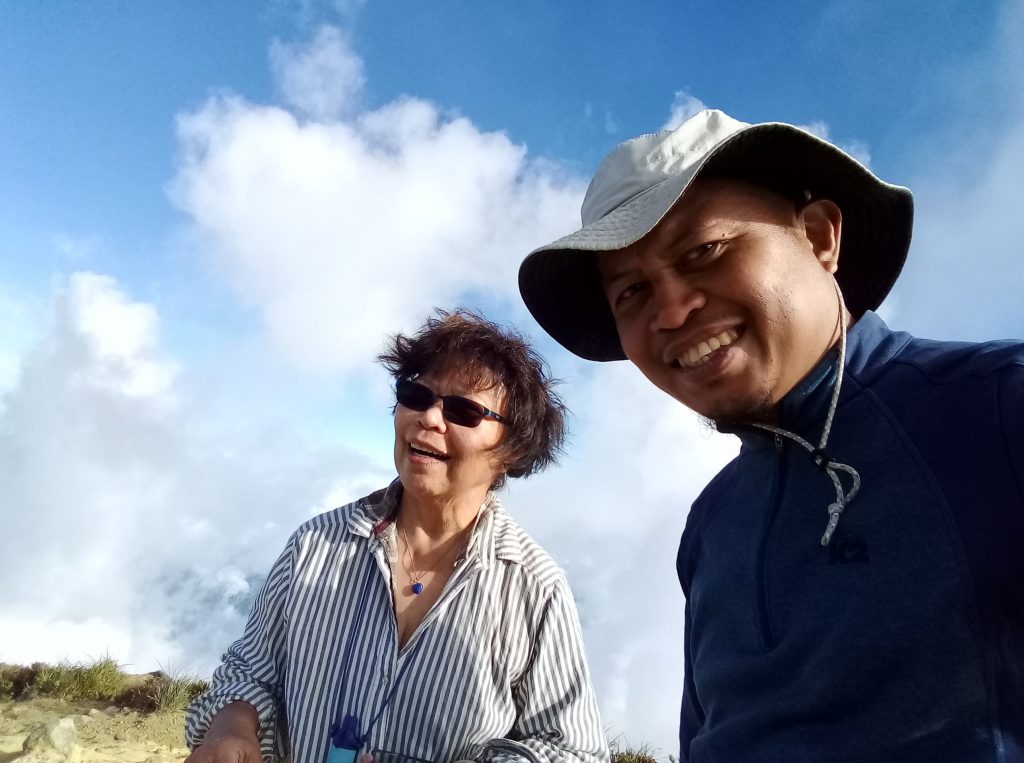 I'm glad I went into it blindly because had I seen photos or heard or read something about the trail, I would have probably bowed out because, at 68, my daughter would  have certainly posed the question, "And why are you punishing yourself?"
I would like to thank the professional staff of Mt. Apo Adventures especially Voltaire, my guide, my chef and caregiver; and Jun our porter/sweeper who appeared to be in constant Zen state.
Article Written by:
       MS. LORNA ELLEMA