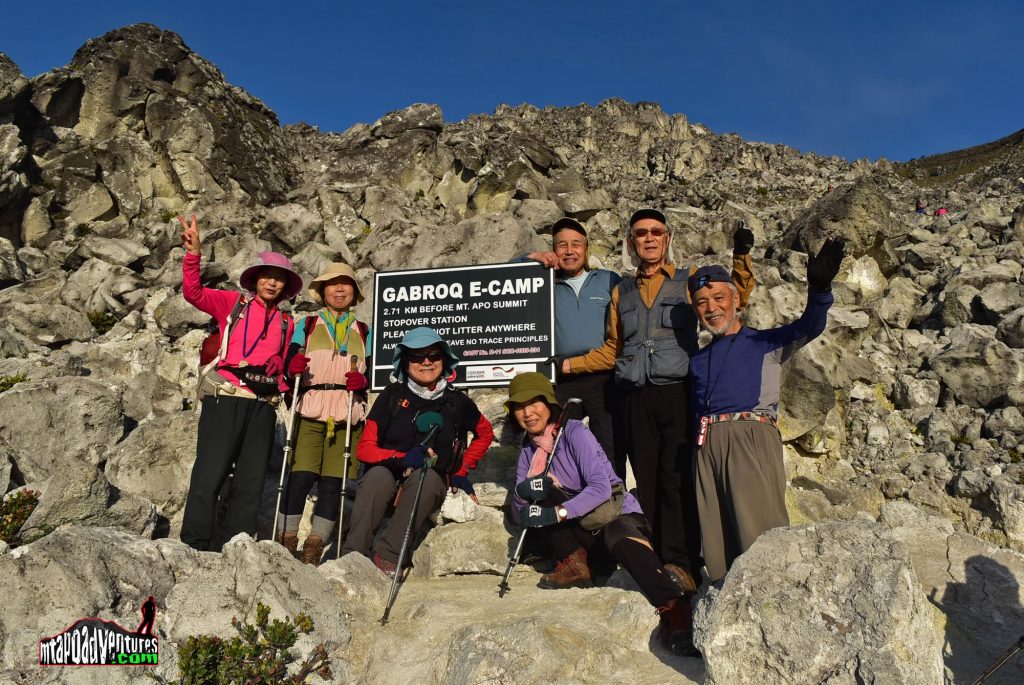 It was early of 2019 when I was contacted by a Japanese mountaineer of the Nanjaku Mountaineering Club in the person Mr. Noboyuki Kihara that his group wanted to climb Mt. Apo on March 2019. Exchange of emails were done and we set the date on March 8-10,2019 with seven Japanese climbers of the mountaineering group via Sta.Cruz trail.
Few weeks before the climb I have asked the details of the trekkers and I was suprised of their age group, they were all senior citezens. The group is composed of four women and three men.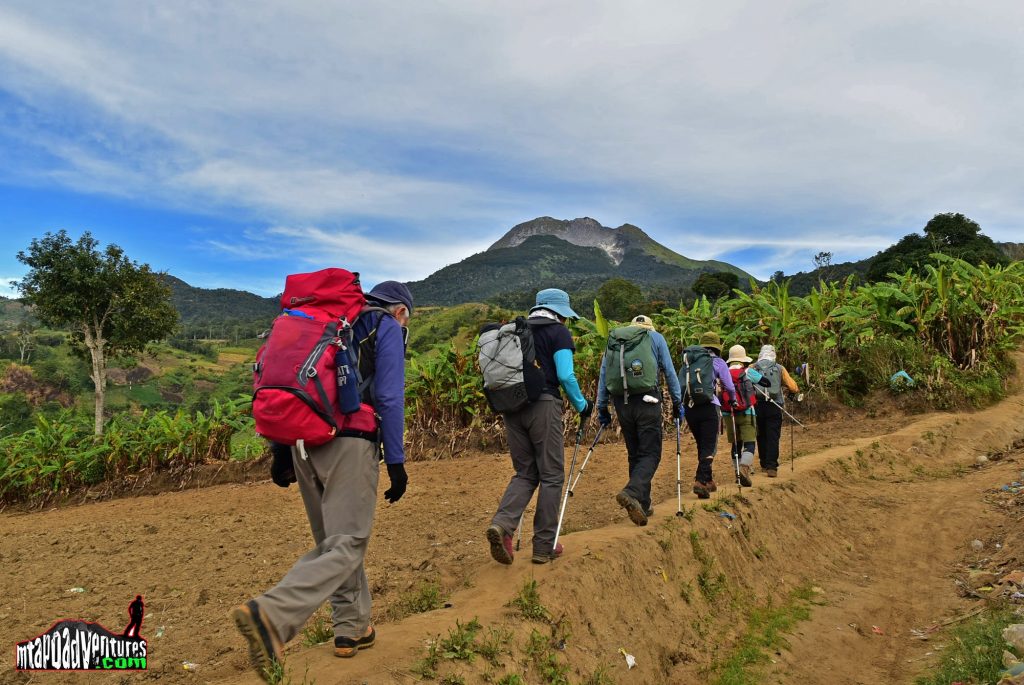 The group arrive on the evening of March 7,2019 and we meet them at Bangoy International Airport , Davao City and brought them to their accommodation in D'Counter Executive Dormitel. On our way to the hotel i already made adjustments on my mind regarding how I will bring this group up when I observed that all of them were senior citizens and right that moment I called Voltaire my assistant guide for this trek to prepare extra number of manpower to assist us and take care of the group for the over-all safety of the group.
Right after arrival in the D'Counter they checked-in directly to their rooms and afterwards we had our climb briefing and collected their climb forms which we will submit it to the Tourism Office of Sta.Cruz including their individual medical certificate that states they are fit to do trekking activity. When i gathered the forms i found out that their youngest member of this trekking party was 69 years old and two of them havent brought a medical certificate but I as a procedure they have to submit and i told them they can get it in a nearby hospital tomorrow morning before we leave.
During the briefing , I explained to them the inclusions of the services that we provide and climb details such as the itinerary and meal plan. As their head guide i opted to decide that we will set camp in Tinikaran Camp 2 where we will there on the next 2 nights while trekking. This will enable us to maximize our trekking time as we ascend on Day1 and give us advantage on a shorter trekking distance on Day 2 as we asault the summit and descend back to campsite as we pass the boulders trail which more tricky so it will be easier for the guests.
After the short briefing we left of our guest for them to take enough rest as I gather my team for the trek as we planned our strategy on how to make this trek safely and injury free for it is our number one goal on every trek. Part of our strategy is to provide additional porters and guides to carry the all our logistics and provide assistance for the trek since our trail to Mt.Apo is far more manual compared to the mountains like Mt. Kinabalu, Mt. Fancipan , Mt. Rinjani and other Asian Mountains that are equipped with railings and stairs. Here guests will really do an actual trekking where they will hold on to some roots or trees or rocks while trekking which give a total adventurous `experience for the visitors.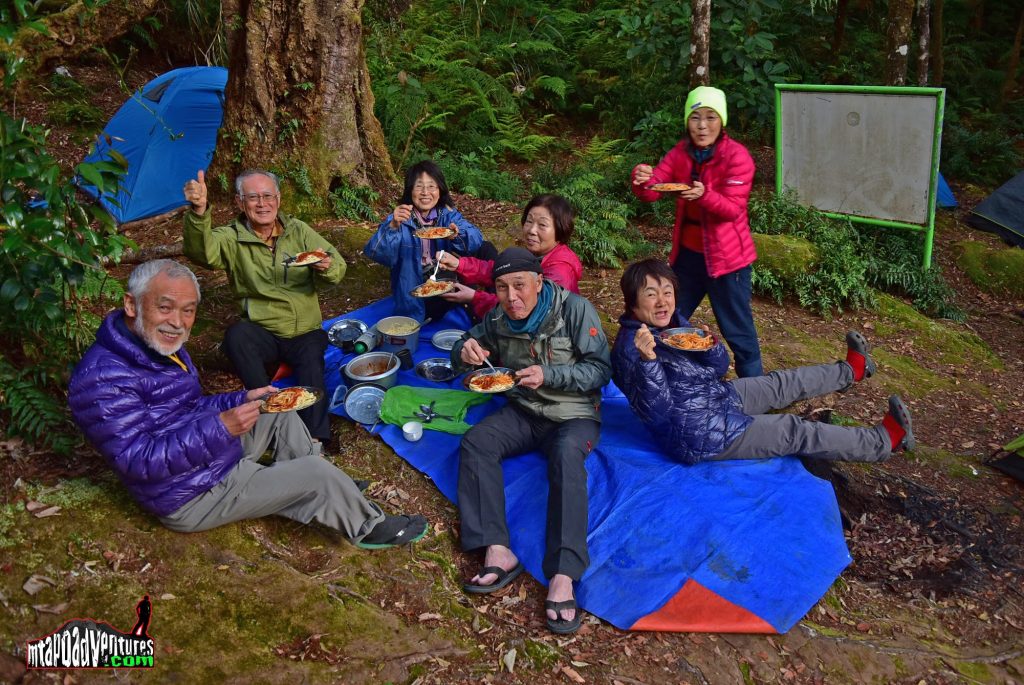 The following day March 8,2019 which is the first day of the trek, we went back to Dcounter pick the guests to conveyed them to Kapatagan (a Bario in Digos City which is the gateway to the East Side Trails to Mt.Apo) and collected the remaining medical certificate. The guest complied to submit the necessary forms but they asked if it is really needed since they are all fit and experienced Climbers an they even show me their picture of their Nepal Treks including high altitude mountains, but I explained that I have to make sure that everybody are Physically fir at that time since its our responsibility what ever happens to them. ( Safety is one of the biggest responsibility that both guests and guide should not forget). Right after few minutes we conveyed them to Kapatagan ( A Barangay under Digos City which is the gateway to the East side trail of the mountain).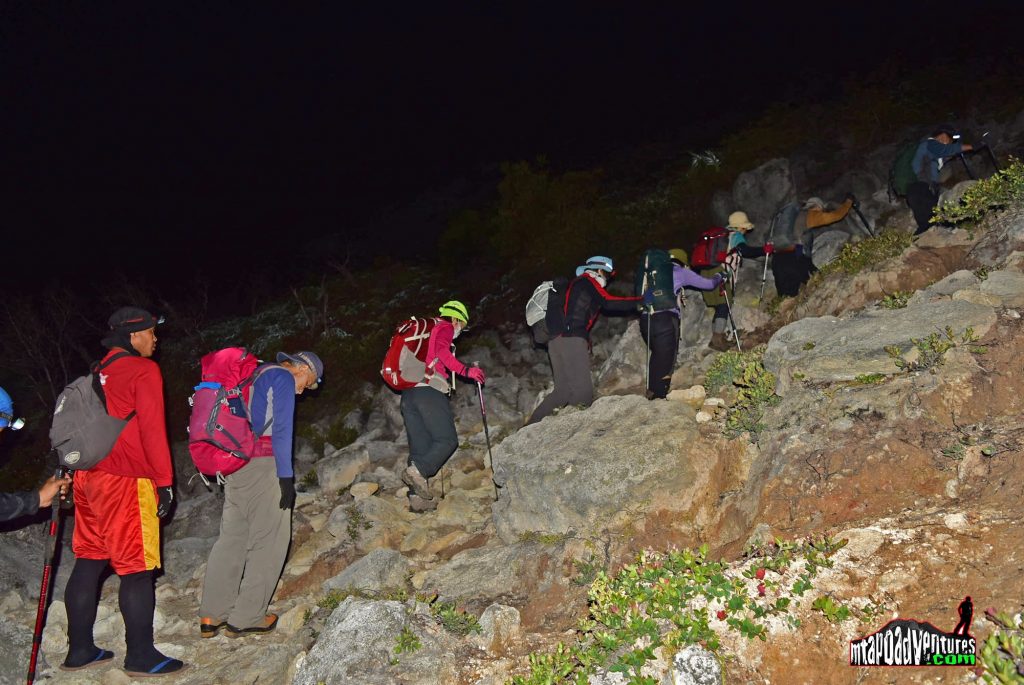 We arrived in Kapatagan after 2 hours of travel via chartered van and had our breakfast and bought fresh meat , vegetables and other supplies for the trek and transferred to a vegetable truck as we proceed tot the trailhead in Baruring River
We started the trek around 9:30 in the morning with our guides and porters and all of us were amazed to this group because they were pretty in shape for they trekked up to our campsite that day as per schedule. although they are not as fast as the your groups but they are well disciplined and experienced. They even carry their own personal things except for the heavy ones which they put all in a different backpack for the porters to carry. That day we trekked for almost 8Km from trailhead and had an elevation gain of almost 1200MASL from starting point.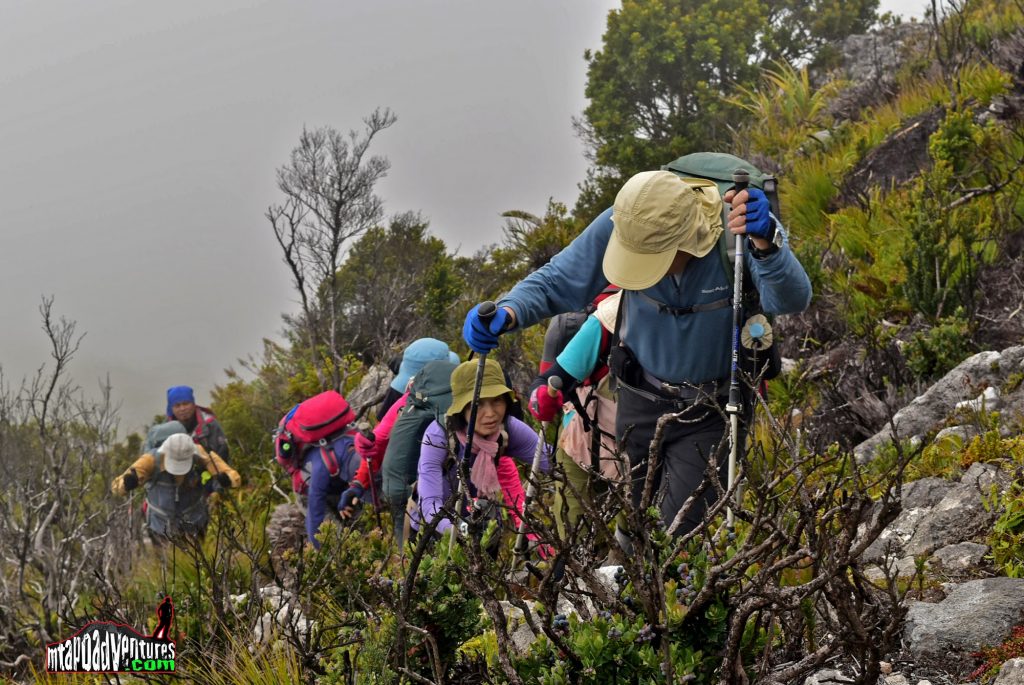 We ended the day with a hot meal of pork stew with vegetables and rice for our dinner prepared by our camp manager and we make sure everybody is well fed to energize their body for the 2nd day for it will be the hardest part of the 3 day trek to Mt.Apo for the climb to the summit will make you ascend 800 MASL and descend the same elevation with a total distance of approximately 10 Kilometers of boulders trail.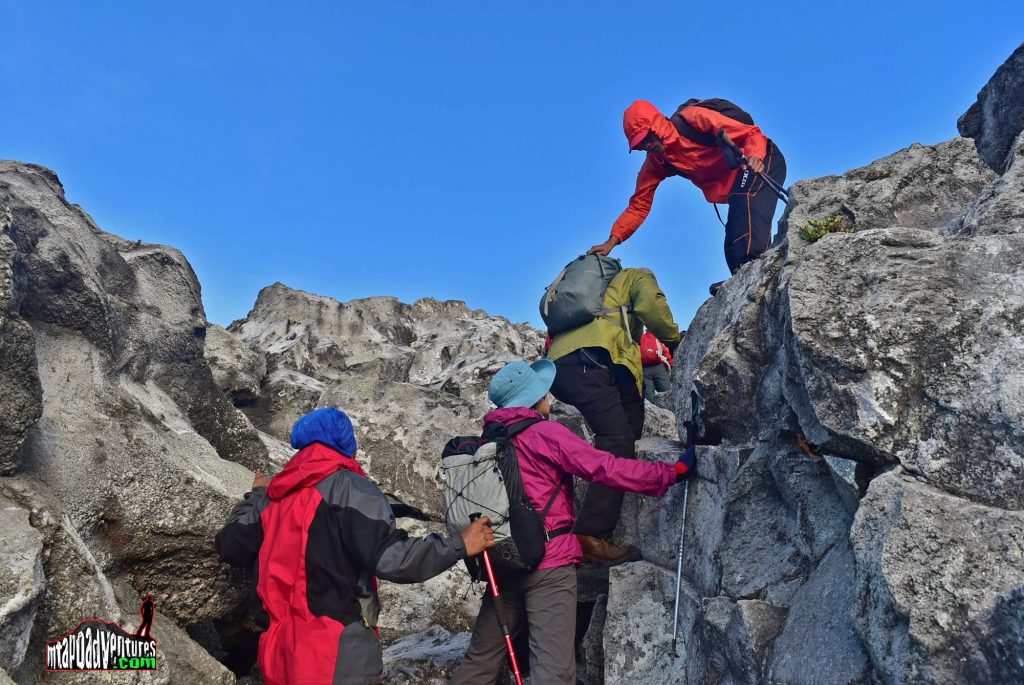 We woke up around 4 AM on March 9,2019 and served hot drinks to the group we hit the trail after preparing the necessary things to bring up such as meals and etc.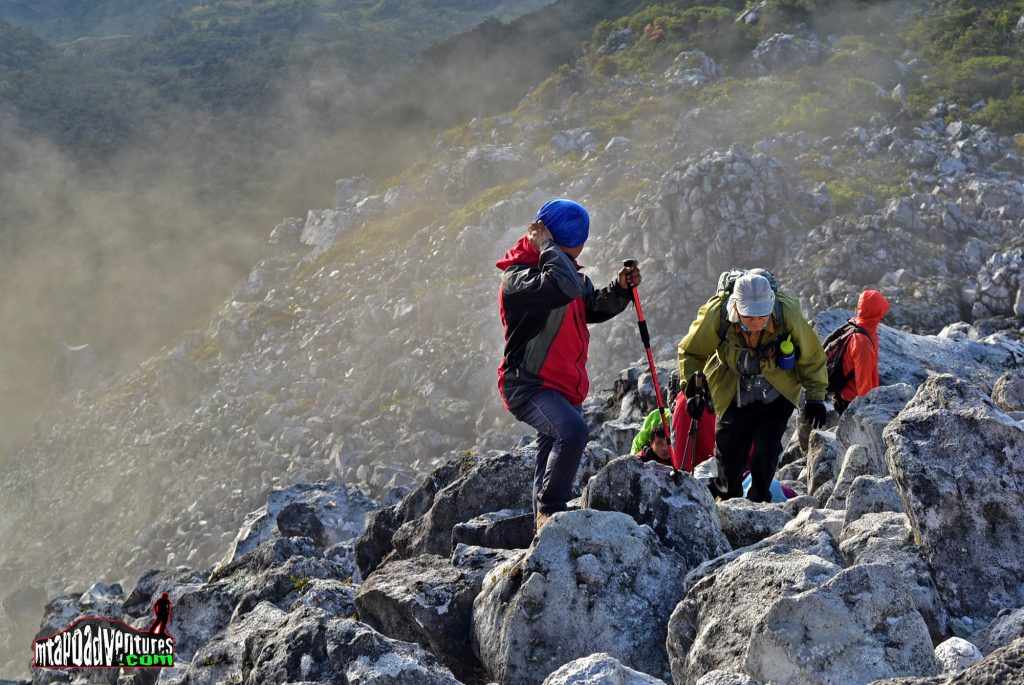 We arrive the boulders few minutes after in total darkness since it was just around 4:30AM but we had or headlamps. what is amazing in this part of the trail when you arrive here before the sun comes out is that you will be able to see the city lights of Davao and Digos city from th top. right after few minutes we enjoy the sunrise as we go up and had our breakfast along the trail.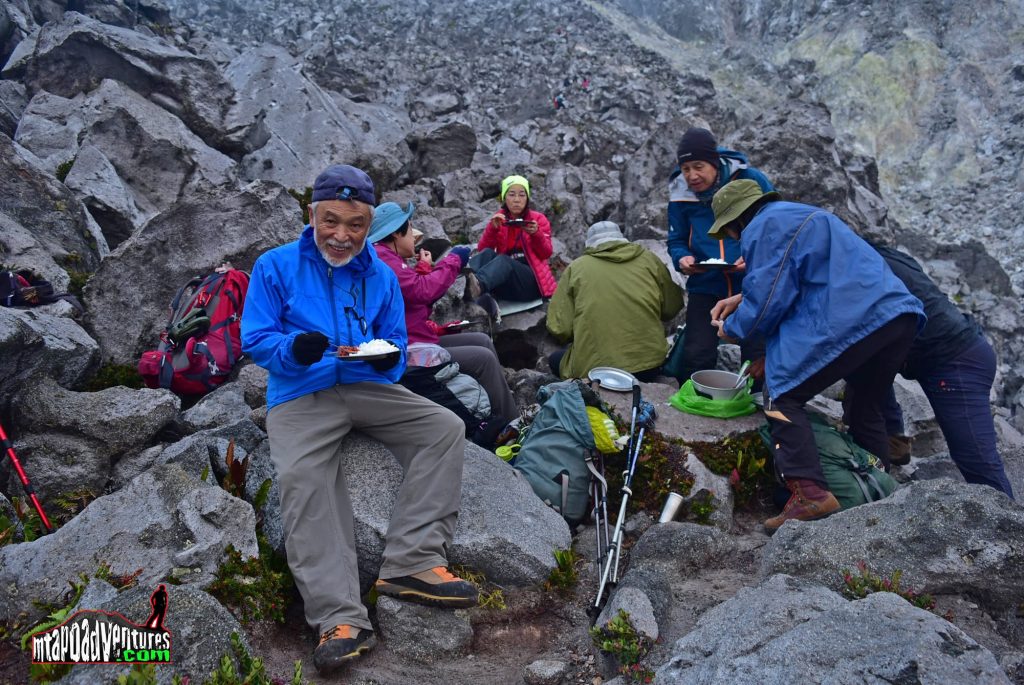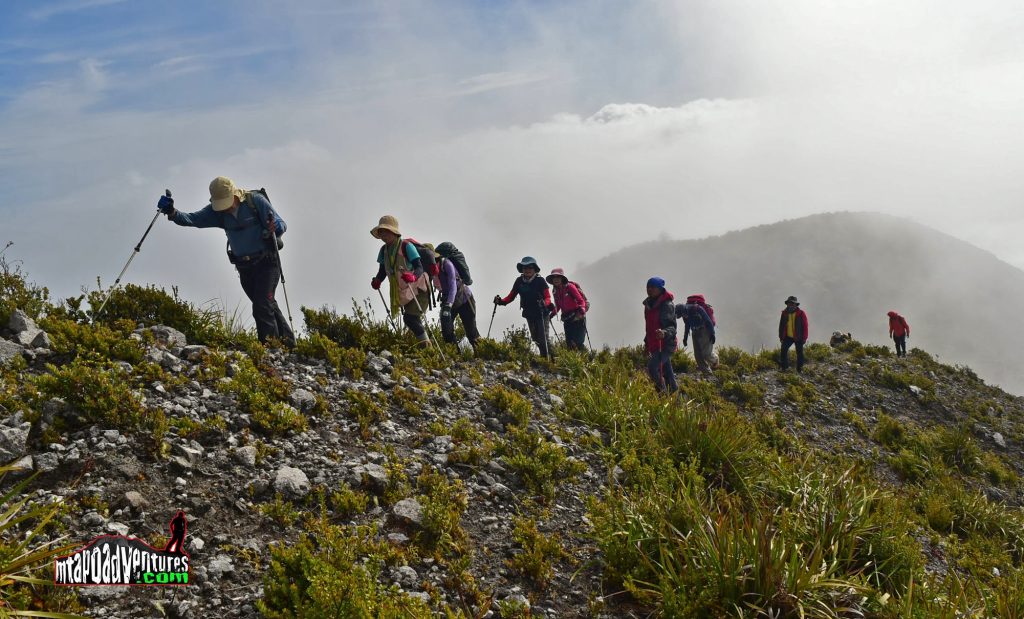 During this stage of the trek I old my guides and porters to be vigilant and make sure that everybody should not make a wrong step since the boulders trail is steep and some parts are loose and we could not afford any injury. So, we make the trek slowly and surely specially when we reach the steep part of Boto'y Ridge as we go up via Cabo's peak(3rd highesto f all the 7 peaks of Apo).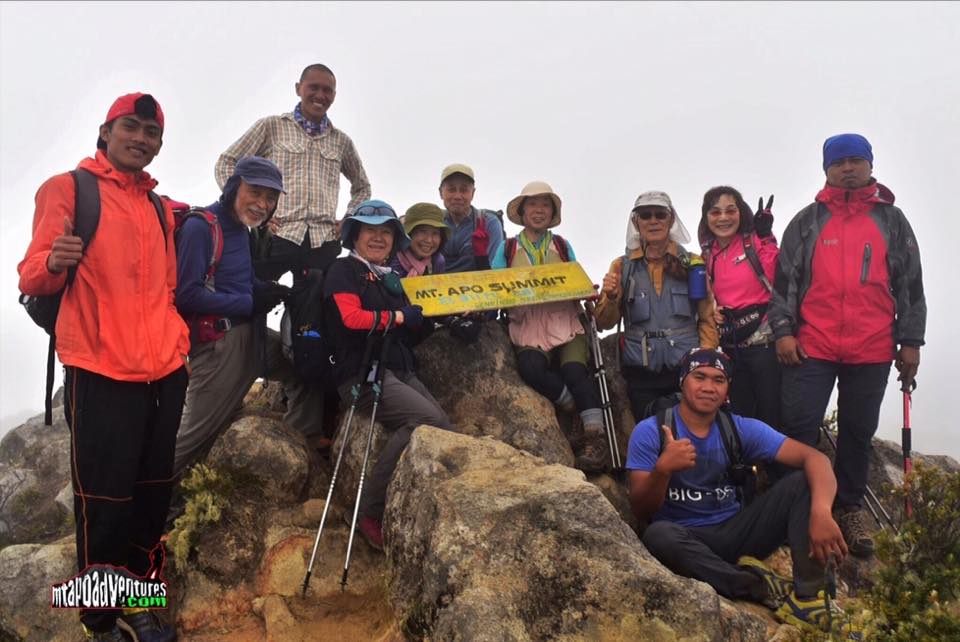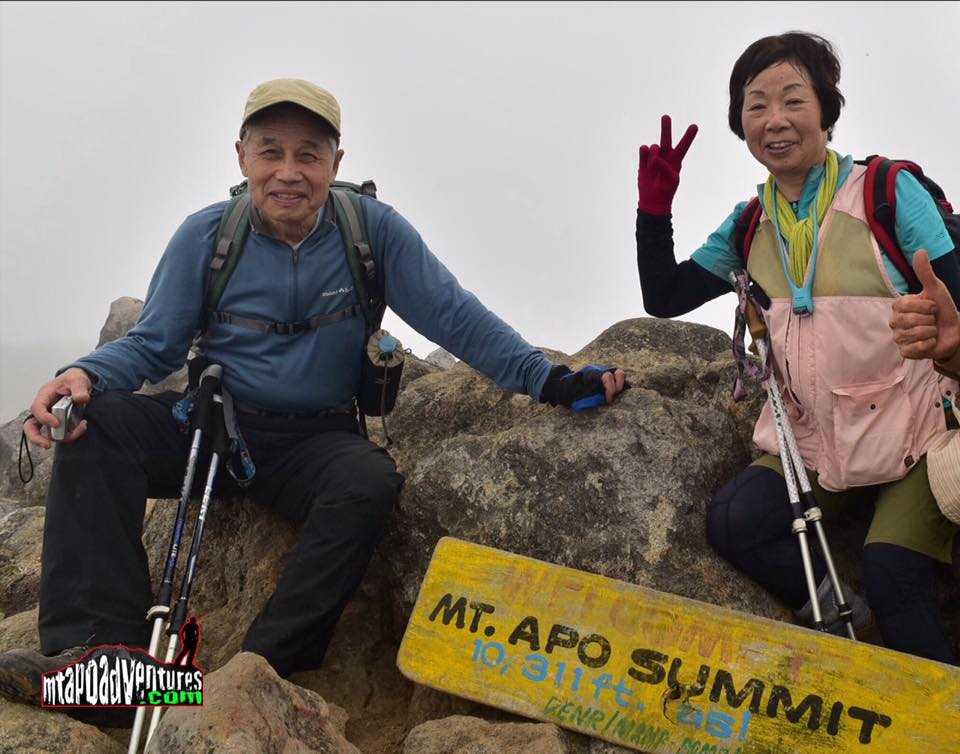 We arrive the Center Peak( Highest point) around 11AM took some photos rest for a while enjoying the moment and the scenery at the highest point of the country, then we go down to the summit camp site had our lunch break have some hot drinks and took some nap to recharge our bodies as a preparation in going back down to the campsite.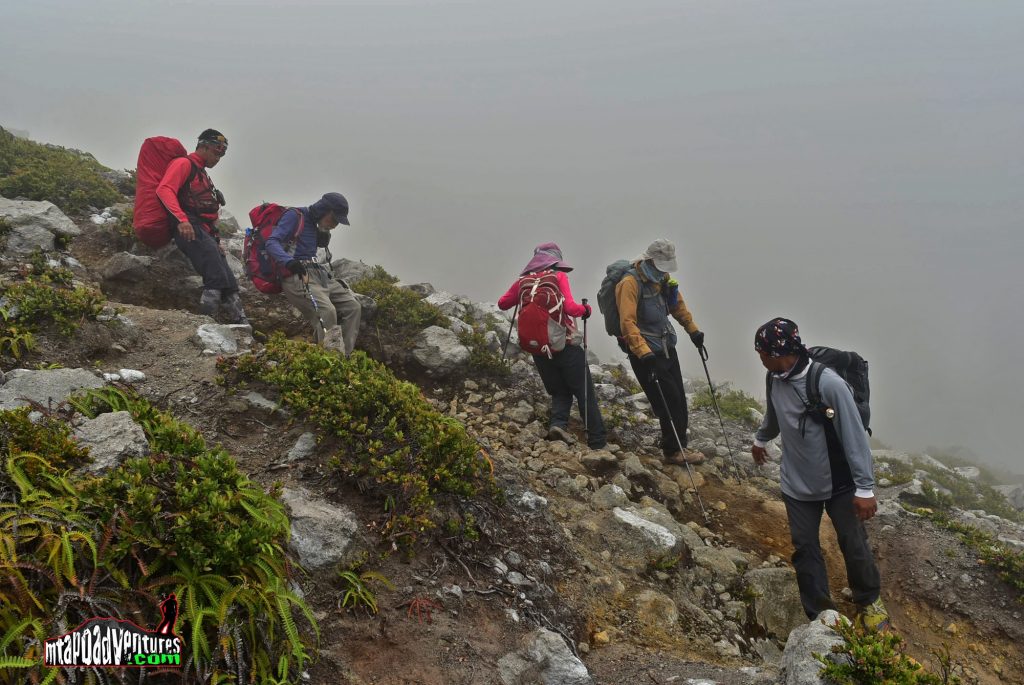 It was almost 1PM when we started the trek back down via the Davao Summit and the old crater then passing the 87degrees trail then back to the Boulders up to Tinikaran Camp2. Slowly but is still the name of the game and we arrive in the campsite around 5AM where we concluded the day with a good meal and took a rest early. Along the trail while we are going down from the summit , we have met groups of trekkers who congratulate them for conquering the mountain and they serve as their inspiration as an outdoorsmen.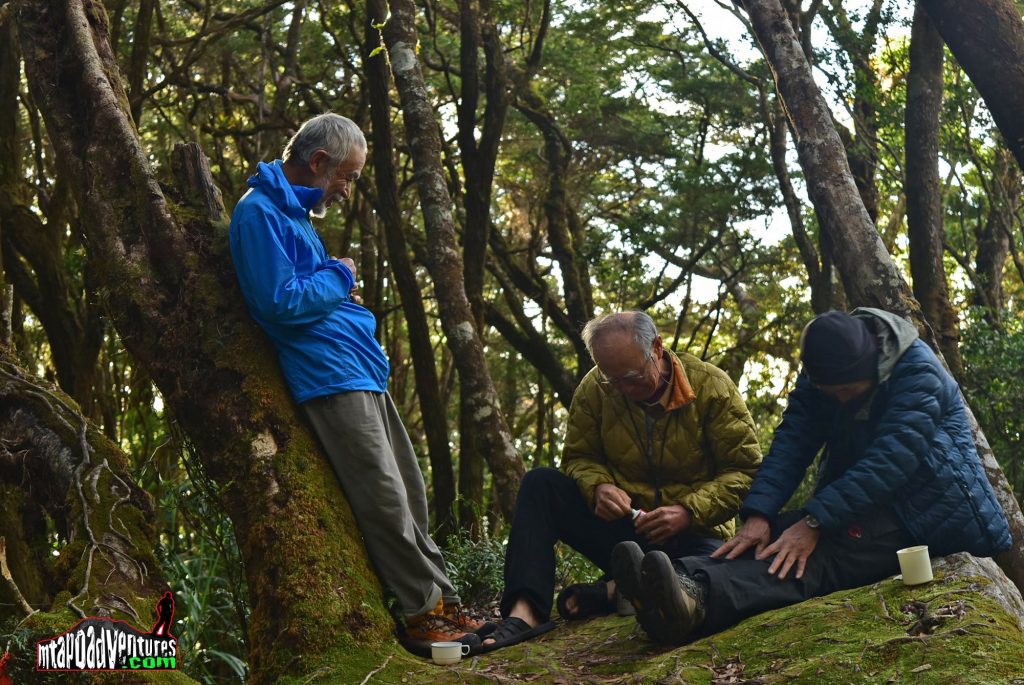 On the 3rd day, e woke up around 6:30AM had some hotdrinks and breakfast but before we started eating the Japanese guest did their stretching first which is really a good practice . Right after break camp we go back down to the trailhead and back to Davao City having a stop over at Sta.Cruz Tourism Council and meet the its Tourism Officer "Julius Paner" who gave them the certificate as the oldest climber on both male and female who went up this mountain successfully.
We ended our trek having dinner together with the group and my guides in Davao City enjoying each others company for he last time while sharing of thoughts , thanks giving and giving salute to the NANJAKU MOUNTAINEERING CLUB of Japan as the oldest trekkers on record to Mt. Apo and being with them in the mountains is very significant one as a mountaineer .Hopefully me and my crew would b able to reach this age and still enjoy the outdoors.
Kudo's to the NANJAKU Mountaineering Club of Japan.